Foreign Players' Quota Reduction
Local forwards reaping rewards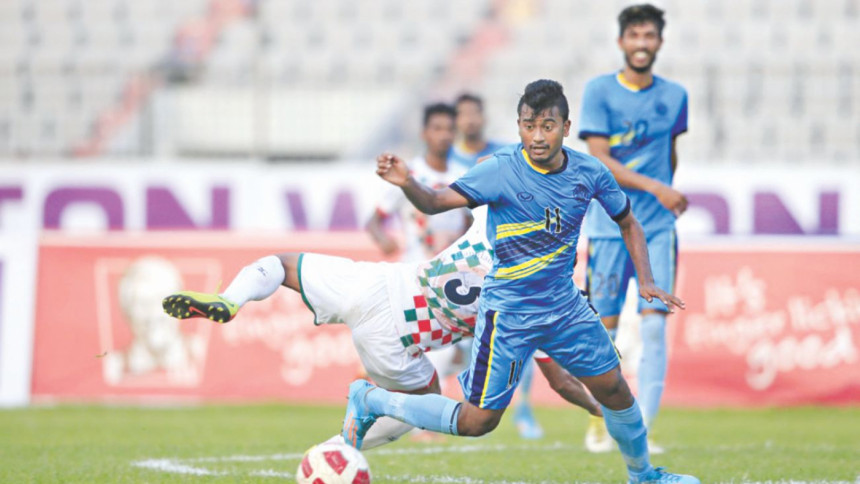 Local footballers have apparently started to play pivotal roles by scoring more than the foreign recruits during this season's curtain-raising Federation Cup following the decrease of foreign player quotas.
Reducing the number of foreign players has long been a demand from the football pundits due to the goal-drought of the national team at an international level. And now, the Bangladesh Football Federation (BFF) finally gave in to the demand following the national team's disappointing results against lowly Bhutan in the Asian Cup pre-qualifiers. The decision seems to have had an instant impact on domestic competitions.
So far, some 34 goals have been scored from 16 matches of the ongoing Federation Cup (2.25 goals per match on average), with local players dominating the goal chart with their 18 against the 16 scored by foreign recruits. It is a sharp rise from last edition's Federation Cup figures where 40 goals were scored in the first 16 matches (2.50 goals per match on average), with foreign players scoring 22.
Interestingly, local footballers had struck 18 goals up to the quarterfinal stage during last season as well, but the number of goals by foreign players was higher. That decrease is a direct result of most clubs playing a local striker alongside a foreign striker.
National discards Nabib Newaj Jibon, Toklish Ahmed, wingers Rubel Mia, Zahid Hossain, promising strikers Nurul Absar, Mohammad Ibrahim, midfielder Shahran Hawlader and a few other unheralded players have put their names on the scoresheet which is being seen as positive sign ahead of Bangladesh's AFC U-23 Championship campaign July.     
"If you look back to last season, teams fielding two foreign strikers along with a midfielder scored more goals in a match and those foreign players made the difference. This time, though, the local players are trying to have the same impact on matches and they are scoring more than the foreigners," opined Chittagong Abahani coach Saiful Bari Titu, who however believes the impact on foreign players also depends on their quality and positions they play in.
The former national coach expects more from local players this season as they are getting more opportunities instead of just warming the side-bench.
"Those who are getting opportunities this time must justify the decision of decreasing the number of foreign players by putting more impact on matches. And to do so, those players, especially the strikers, must be prepared individually and need to hit the target regularly," said Titu, who wants to pin hopes on young strikers to overcome the goal-draught of the national team.
"It is positive that strikers like Jibon, Toklish are getting goals regularly but it will be more positive for the national team if the young and unheralded players hit the target regularly in domestic matches," opined the former national footballer.