Liverpool stars not for sale, says Klopp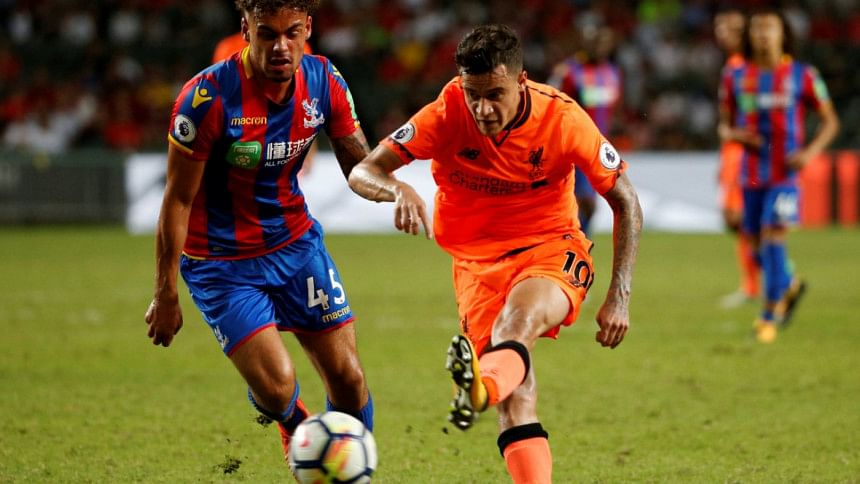 Jurgen Klopp has declared Liverpool will not part with their best players as speculation continues over the future of midfielder Philippe Coutinho amid a proposed move to Barcelona.
The Spanish side are believed to have made a 70 million pounds ($91 million) bid to sign the Brazilian this summer, but the German manager stressed none of his squad were for sale.
"I'm not surprised but it's not a compliment," he said of interest in one of his key players.
"It's not that I need it but a few people obviously see that Liverpool have a few good players. So, that's how it is.
"But, a very important message -- maybe we're not a selling club. That's how it is.
"We believe in working together, we believe in development together, we believe in using the basis that we want to work together, we want to make the next step together and for this we need to stay together."
Coutinho was a standout performer for Liverpool last season as Klopp's team put in a strong challenge for the Premier League title before eventually slipping to fourth and securing a place in the qualification rounds of the UEFA Champions League.
Klopp, however, is hoping for more from the 25-year-old as Liverpool chase a first league title since 1990.
"Phil is a very, very important player but we need to react better when he's not on the pitch," said Klopp.
"There were a few games when he was out and when he came back and he was not in the best shape and he tried to get back his rhythm.
"Phil, when he's able to run properly then you want to have him on the pitch again. We have to be better in moments like this.
"Phil can improve, he has inconsistency, but there's no doubting his qualities."
Team mate Adam Lallana is confident Coutinho will stay at Anfield as the club prepare to take part in the Champions League qualifying rounds next month.
"Off the back of his season, he's a fantastic player so there's no surprise that there are teams interested in him," said Lallana.
"There are probably teams interested in other players in our squad. I think we're going to achieve big things and I'm sure Phil will be part of that.
"We're a massive club, we're in the Champions League -- OK, we need to qualify -- but if we're going to win competitions like that and the Premier League we need to keep hold of players like Philippe."