Juve shares rise over Ronaldo transfer reports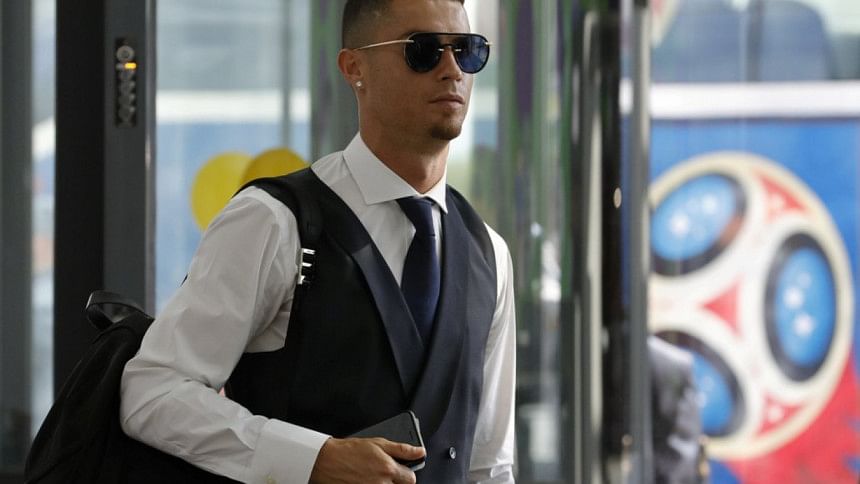 Shares in Juventus FC jumped almost 10 percent on Thursday on the back of reports that Real Madrid striker Cristiano Ronaldo might soon join the Italian club.
For a second day running, Juventus, Italy's most successful soccer team, declined to comment on the reports.
At 1230 GMT, Juventus shares were trading 9 percent higher at 0.81 euros. Over the last three days, shares in the club have surged more than 20 percent in heavy trading volumes, as speculation over a Ronaldo transfer mounted.
Several Italian newspapers said on Thursday that Ronaldo's agent was expected to meet Real Madrid President Florentino Perez later the same day to discuss the possible transfer.
Juventus won a seventh successive Serie A title in May, bringing their overall tally to a record 34 titles.
"It would be a big deal, increasing the team's appeal and also because it would bigger business for Juve, through merchandising," a Milan-based trader said.
Ronaldo, who joined Real from Manchester United in 2008 for a then world record 80 million pounds ($105.9 million), is the Spanish club's all-time top scorer with 451 goals in all competitions and has won two La Liga titles and four Champions League trophies with them.
Despite the glut of silverware, however, the five-times world player of the year has had frequent fallouts with Real and has declared on several occasions that he wants to leave the club.
Moments after lifting a third consecutive Champions League trophy by helping Real beat Liverpool 3-1 in the final on May 26, Ronaldo appeared to suggest he had already decided to leave, telling a television reporter on the pitch at Kiev's NSC Olympic Stadium: "It was beautiful to play for Real Madrid."
The 33-year-old appeared to backtrack on that statement during Real's celebration parade through the Spanish capital the next day, when he told a mass of supporters: "See you next season."
TRANSFER REPORTS
Real have not issued any statement on their website about Ronaldo, although in the past days they have issued statements denying reports they have made transfer bids for Paris St Germain forwards Neymar and Kylian Mbappe.
Spanish newspaper Marca suggested on Wednesday that Ronaldo is unhappy at Real because they are searching for his successor and Perez has publicly courted Neymar, urging the Brazilian last year to come to Madrid if he wants to win the prestigious Ballon d'Or award.
Ronaldo, Portugal's most capped player and all-time leading scorer with 85 goals in 154 appearances, scored two goals against Juventus in Real's 4-1 win in the 2017 Champions League final.
Earlier this season, he struck a jaw-dropping bicycle kick against the Italians in a 3-0 win in a quarter-final first-leg game in Turin which prompted Juve supporters to give him a standing ovation.
He scored four goals in the World Cup, including a hat-trick in a 3-3 draw with Spain, but missed a penalty in a 1-1 draw with Iran and could not prevent a second round 2-1 defeat by Uruguay.