Infantino hails VAR 'great success' at Confed Cup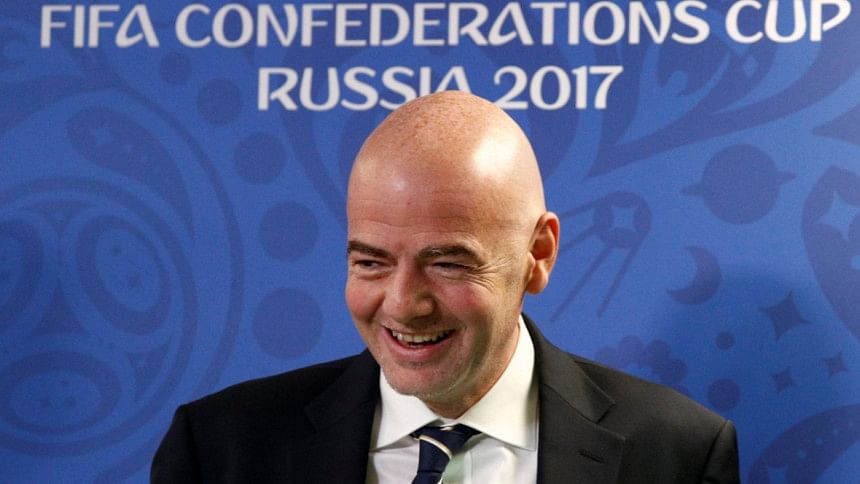 FIFA president Gianni Infantino hailed the video assistant referee (VAR) system as "great success" at the Confederations Cup, but admitted it still needs improving.
World football's governing body is testing the system in Russia and Infantino said the six game-changing decisions the VAR has so far picked up meant "more justice and fair play".
The best example of the system's impact came when Portugal were denied a goal in their 2-2 group stage draw against Mexico after the video assistant spotted four players were offside before Nani scored from a rebound.
And in Germany's 3-1 win over Cameroon, the referee initially sent off the wrong player before the VAR overruled the decison and Ernest Mabouka was correctly dismissed for fouling Germany's Emre Can.
"The VAR has been a great success in Russia," said Infantino.
"The video refs had the chance to intervene and there were six game-changing decisions, where they actually corrected the decison or mistake, made by the ref.
"Without the VAR, we would have had a different tournament and it would have been a little less fair.
"Thanks to VAR we have achieved a great thing -- those big mistakes will not happen any longer.
"It will always be the referee who decides and there will always be discussions, but big mistakes will be corrected and that is a great achievement after it was asked for so many years."
Long delays while the VAR makes a decision and communicates it to the referee on the pitch have held up matches on several occasions, with Infantino conceding there is still room for improvement.
"Of course it's a test, we still need to work on the details, the speed of the decisions being taken, for example."
FIFA plan to further test and fine-tune the system in the German and Portuguese leagues next season, while Infantino in April said the technology will be used at the 2018 World Cup.
Pierluigi Collina, the chairman of the FIFA refereeing committee, said Confederations Cup officials were telling him that the VAR system gave them more confidence.
"The VAR is a very positive tool to help refs avoid making mistakes, it is a very positive outcome so far," said Collina.
"It's a work in progress with the VAR system -- we have only used it at 74 matches, at (last December's) Club World Cup, the Under-20 World Cup (in June) and here.
"It's not a big number and it would be a surprise if everything was perfect after so few matches.
"When we train someone without match pressure, it's very different.
"They need to be in that match situation when you know you have a very short time to get the correct interpretation to make the right decision.
"We want to avoid mistakes which are remembered for years which affected the final outcome of the match or a competition."