Mexico's Osorio 'sorry' for bust-up with Kiwi bench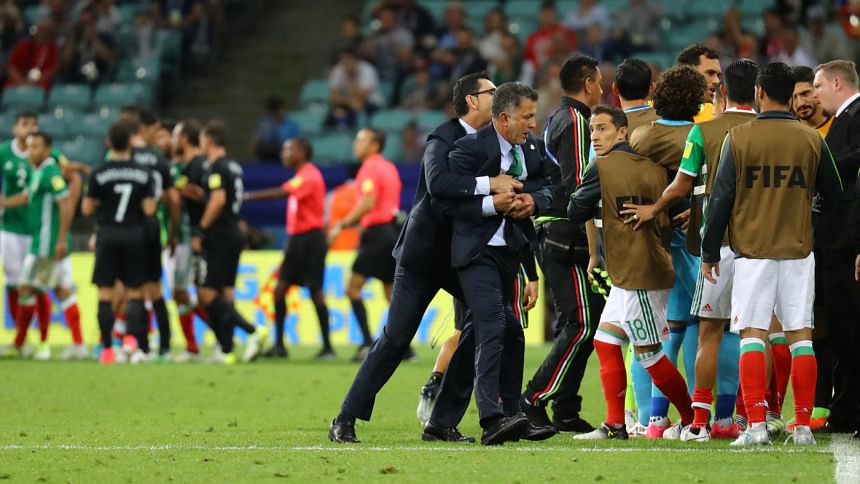 Mexico's coach Juan Carlos Osorio has apologised for losing his temper during a bust-up with the New Zealand bench during his team's 2-1 Confederations Cup win on Wednesday.
Osorio, 56, got into a heated argument with one of New Zealand's assistant coaches after Mexico's Carlos Salcedo went down with a shoulder injury in the first-half.
Replays showed the defender slipped after a tussle with All Whites captain Chris Wood and the video assistant referee did not intervene.
Mexico's Colombian coach Osorio later had to be restrained by his own bench when a mass brawl broke out in the dying stages, for which his midfielder Hector Herrera was booked.
Wood's shock first-half score for New Zealand was cancelled out by goals from Raul Jimenez and Oribe Peralta as Mexico's victory took them top of Group A on goals scored.
"I would like to apologise to our fans, the way I spoke to one of their assistant coaches was not okay," said Osorio.
"There is no place for disrespect in football and I am sorry. The scene where Salcedo went down, I was shouting for them to stop the game, but there was no reaction (from the New Zealand bench).
"The game was rough, almost violent on occasion, so I lost my temper.
"The camera showed my reaction, but not that of their assistant.
"It's over, but he knows what he said to me," added Osorio when asked to repeat what was said.
New Zealand's head coach Anthony Hudson played down the incident.
"I thought it was bizarre really, it was like we had elbowed the player the way it was going on," said Hudson.
"We didn't see it at the time, but that is what the video assistant referee is there for and we trust in that situation the video was used.
"I had discussions with my assistant at the time and we waited for the video (replay).
"I didn't get involved too much, I was just waiting for the decision of the video assistant."