Giroud wins over supporters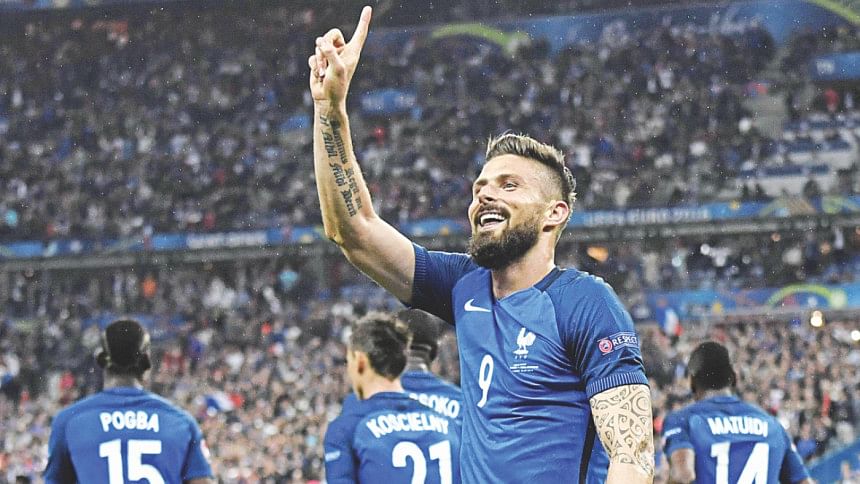 Forward Olivier Giroud, jeered by France supporters barely a month ago, won them over on Sunday with what he described as his best performance for his country in a major tournament, scoring twice in the 5-2 win over Iceland at Euro 2016.
The 29-year-old did not want to dwell for too long on his own display and said that the team's achievement in reaching the semi-finals, where they face Germany on Thursday, was more important than his official Man of the Match award.
"I'm pleased, nothing more than that," Giroud told reporters.
"I don't know if that's my best performance for France because I've played some other good games but in a major tournament, such as Euro 2012 and the World Cup in Brazil, that is my best. I felt good from the start."
Giroud just made the squad after recovering from a lean spell at Arsenal with a strong finish to the English Premier League season.
He was jeered off the pitch by France fans in a 3-2 win in Cameroon in a pre-tournament friendly before silencing critics with two goals in a 3-0 win over Scotland in Les Bleus' final warm-up for the Euros.
A true fighter, if not an artist, Giroud had an extra problem with the French fans, many of whom felt he had been picked only because Karim Benzema, facing a ban because of his involvement in an alleged blackmail scandal, was left out.
Nevertheless, he is France's top scorer under coach Didier Deschamps with 20 goals in 53 appearances.
After needing late winners to beat Romania and Albania, and having to come from behind to beat Ireland, the French were happy to have made a flying start against Iceland in Paris, where they led 4-0 at halftime.
"That was the bit where we have been struggling since the start of the competition. We did what we needed to right from the outset, we were very clinical," Giroud said.
Dimitri Payet, who scored the third goal, agreed, saying: "We scored very early on, unlike in our previous games, so we're happy.
"We created many chances, that's what makes it easier to score goals. But besides this I think, in terms of the game, it was our best so far."