Giroud seizes moment to remind Wenger of his worth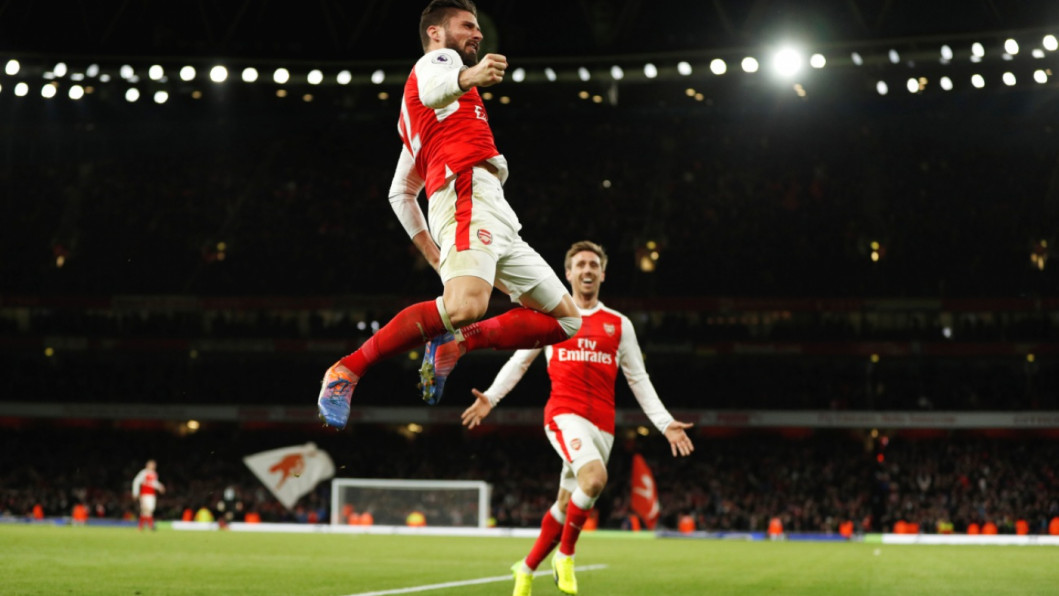 Olivier Giroud proved the difference for Arsenal in a typically hard-fought 1-0 win over West Bromwich Albion on Monday, again demonstrating his worth to manager Arsene Wenger after spending the majority of the season on the substitutes' bench.
The France international has been starved of Premier League action this season due to Wenger's preference for playing Alexis Sanchez as the central striker and he found himself in the starting team for the first time against West Brom.
Giroud initially struggled against Tony Pulis's physical side and Sanchez looked far likelier to forge an opening as he struck the post and fired shots repeatedly at Albion goalkeeper Ben Foster.
Arsenal eventually beat West Brom at their own game, however, as Giroud powered past veteran defender Gareth McAuley to send Mesut Ozil's cross looping over Foster and into the far corner of the net.
"Sometimes you make it through on the ground today we did it in the air and he is our only player that can do that in the air," Wenger said.
"He has done it a lot of times, when he has come off the bench and it's been frustrating for him because I didn't always play him in the next game when he played well. We have an honest relationship and I have big respect for him."
Despite having to grapple with a supporting role for the first time since joining Arsenal in 2012 after leading Montpellier to an unlikely French Ligue 1 title, Giroud has proved decisive on several occasions this season.
The Frenchman scored Arsenal's second and third goals in a 4-1 win at Sunderland after they had been pegged back and headed an 89th-minute equaliser to salvage a 1-1 draw at Manchester United.
"It has been a big relief. We pushed and pushed towards the end and we kept believing in our game. It's a big finish, an amazing feeling. It's nice for us because we always try to find a solution and we've been a bit unlucky recently," Giroud said.
"It's job done today but it was very hard. We were playing against six at the back, three in midfield and then one up top, but we never gave up. It was a great feeling to score and a big relief too."