Man City go second with 3-0 win over Hull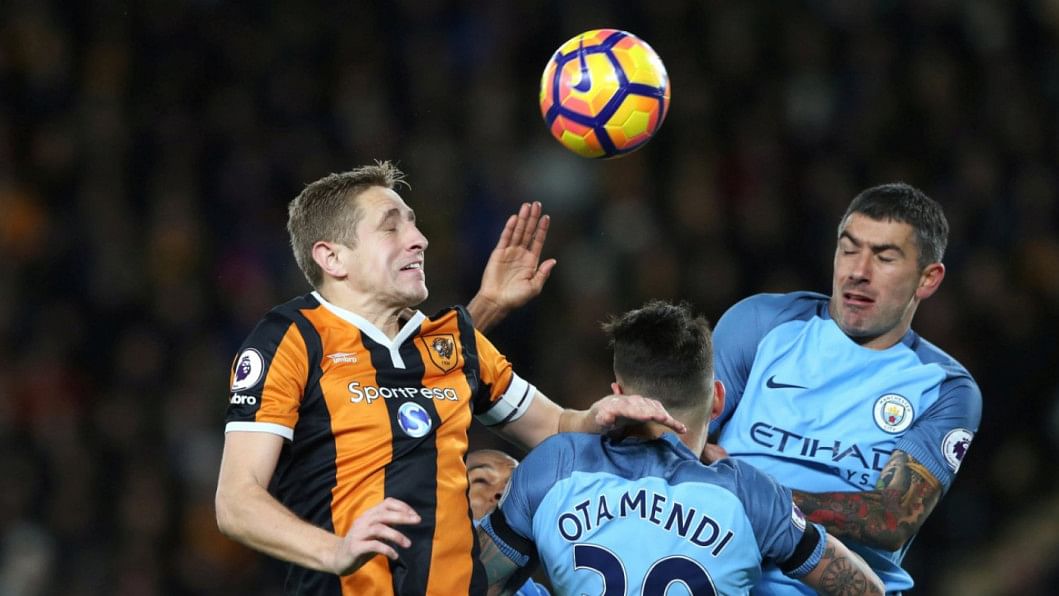 -Manchester City beat struggling Hull 3-0
-Toure and Iheanacho were on target for the visitors
-Hull defender Curtis Davies also scored an own goal
-Toure converted a penalty after Sterling was fouled
-Iheanacho grabbed a simple second six minutes later
-Hull next host Everton, Man City visit Liverpool
Yaya Toure slammed home a penalty and Kelechi Iheanacho netted a simple goal for Manchester City as they secured a 3-0 win at struggling Hull City who again came up empty-handed despite a battling display on Monday.
Hull held out for more than an hour but their resistance finally crumbled when Raheem Sterling was upended by Andrew Robertson in the 72nd minute and Toure fired the ball in from the spot.
Six minutes later Kevin De Bruyne, who hit the post earlier with a dipping shot, and David Silva combined to create a simple chance for Iheanacho as he tapped in from close range.
An own goal in injury time by defender Curtis Davies rounded off a miserable 20-minute spell for Hull who have not won in the league since beating Southampton on Nov. 6.
The win put Pep Guardiola's side second in the table on 39 points, seven behind leaders Chelsea.
Manchester City next travel to fellow title hopefuls Liverpool on New Year's Eve while bottom club Hull host Everton on Friday.
"We won but like always had to work hard for it," said Guardiola. "In the first half we forgot where the goal was, in the second half our strikers saw the goal a bit more and after the first goal it was easy.
"There is always pressure for us because the top of the league is tough and the other teams at the top won today. Every game we play is like a final."
Hull manager Mike Phelan said the penalty was the turning point.
"Andrew Robertson is heartbroken because he knows he has suffered a harsh lesson," explained Phelan. "He has to stay on his feet and shuffle the player across to an area where maybe his team mate can do a little bit better at making an attempt to tackle.
"Until then we put everything together the best way we could. We got to their players quickly and definitely frustrated them."