Cavani rejects €1m bonus to let Neymar take penalties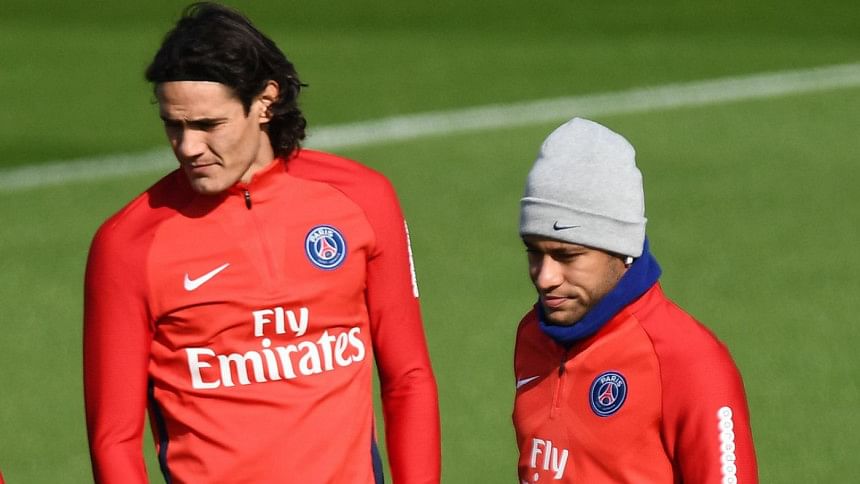 PSG chairman Nasser Al-Khelafi offered €1m to striker Edinson Cavani so that he will allow Neymar to take penalties.
Spanish newspaper El Pais revealed the information and claims that 'penaltygate' incident is just the tip of the iceberg.
Earlier, UEFA annonunced that they would be investigating PSG for breach of Financial Fair Play (FFP) rules after €222m move to the French club.
If found guilty PSG could face exclusion from European football for several seasons. El Khelafi was said to be very agitated by the situation and he moved to put several top players up for sale in order to balance the books.
Influential players like Javier Pastore, Lucas Moura, Ben Arfa, Serge Aurier, Julian Draxler, Blaise Matuidi, Angel Di Maria and captain Thiago Silva were among the names who were on the sale-list. Matuidi was shipped to Juventus – a move that created friction between the players and the board. The players felt that they were mere commodities, to be shipped off to make way for Neymar.
El Pais says that there has been acrimony within the squad since the president treated the Brazilian forward as a deity.
El Pais claims that Al-Khelafi offered Cavani 1 million euro so that the forward would let Neymar take penalties. The striker however feels that money is not important in this matter and that he has been playing for PSG for four years.
Al-Khelafi also sent emissaries to Neymar in order to test the waters. They suggested to Neymar that taking penalties was not the most important thing. As the star player of the team, Neymar had to show more mangnanimity.
Neymar was reportedly angry at these suggestions and chose to sit out the game against Montpellier, a game where PSG dropped their first points of the season in a 0-0 draw.
Perhaps, Al-Khelafi believed that Cavani's attempts to not allow Neymar to take penalties stemmed from his urge to grab the prize money that is given to the highest-scorer in the league. El Pais report suggests that the situation has a lot more to it than just money.
El Pais says that Cavani's attitude in regard to this matter is only the expression of a generalized feeling among his teammates, especially among the veterans. While no one doubts Neymar's hierarchy in the team, however, some within the squad are beginning to question his excessive authority.
Right now as it stands, Neymar has a ally in Dani Alves – a man with experience.
Alves threw a dinner party last Thursday and invited PSG players and staff to a lavish restaurant in a bid to calm the antagonizing situation within the dressing room.
According to an attendee however, the dinner resembled the mood of a funeral.