Walton-DRU Media Cup Football Tournament
Daily Star decimate Sangbad Pratidin to reach final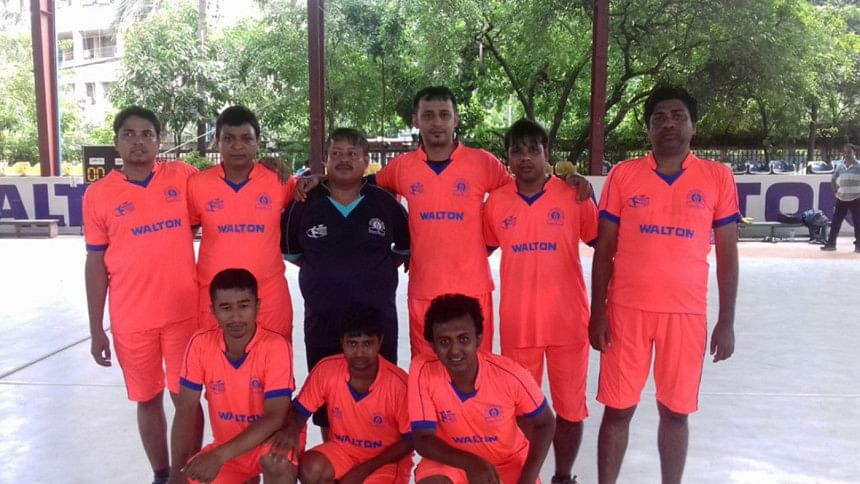 The Daily Star (TDS) made light work of Sangbad Pratidin as they romped to the final of the Walton-DRU Media Cup Football Tournament with a 3-0 win at Shaheed (Captain) M Mansur Ali National Handball Stadium in Gulistan today.
From the onset, TDS didn't allow their opponents any chance to settle down as well coordinated attacks threw the cat among the pigeons as far as Sangbad Pratidin were concerned. An early own goal from Fazlur Rahman's powerful strike set the tone, as the play-maker of TDS, Sports Editor Mohammed Al-Amin opened Sangbad Pratidin's defense like a can of beans to the delight of his teammates, reports our correspondent.
After the own goal, Fazlur got his name on the score-sheet for good with a brilliant effort in the 7th minute. TDS didn't take too long to celebrate again as Al-Amin, the man-of-the-match in today's semi-final finished off a neat build-up with a clinical strike before the first half came to an end.
In the second half, Sangbad Pratidin tried to come back but found the TDS defense too tough for their liking. TDS will meet Bangla Vision in the final of the tournament at 11:30 am today at the same venue.
Bangla Vision booked their place in the final at the expense of ATN Bangla.
TDS qualified for the quarterfinals with a 1-0 win over Gazi TV on August 30. On August 31, TDS beat Kaler Kantha 2-1 in penalty shootout to reach the semis.
The Walton-DRU Media Cup Football Tournament, organised by Dhaka Reporters Unity (DRU) and sponsored by Walton Group began on August 28 with 34 teams representing various print, electronic media, news agencies and online media houses of Bangladesh.