Cristiano Ronaldo to skip third place match and visit newborn sons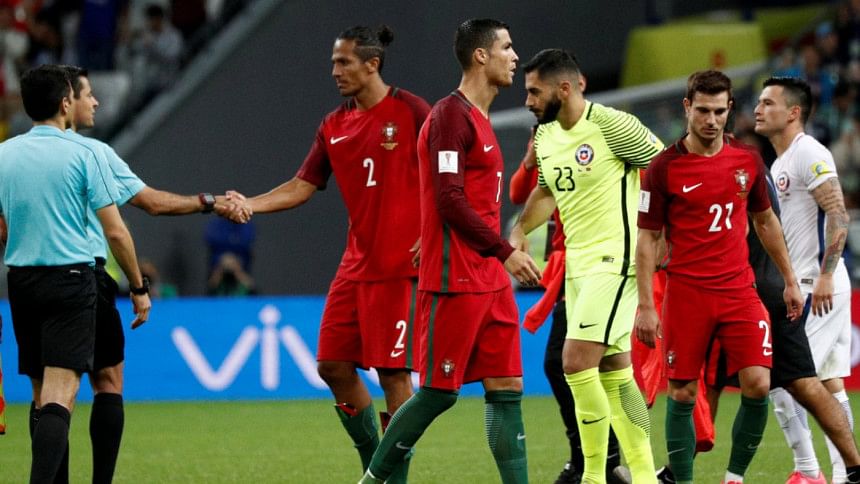 Cristiano Ronaldo gets permission from coach Fernando Santos and the Portuguese Federation to leave for an early vacation before the FIFA Confederations Cup concludes.
Portugal's elimination in the semifinals of the Confederations Cup against Chile saw them crash out of the competition but they still have a third place play-off match against either Germany or Mexico who are set to play in the other semifinal match.
According to Spanish newspaper Mundo Deportivo, Ronaldo is expected in Madrid before the US tour of July 23, if he does not leave the Bernabeu after  his recent fiscal problems.
"I have been at the service of the national team, as always, body and soul, even knowing that my two children were born," Cristiano said in his Facebook account. The Real Madrid star added that he has received permission to travel to Portugal and would not be participating in the third place play-off match.
"I am very happy to finally be with my children for the first time," he said, and he was very grateful to the federation and coach.
Despite the birth of their two children in early June, Cristiano maintained his plans to play in the Confederations Cup, in which he played four games and scored two goals, one a penalty.
Cristiano also lamented the defeat against Chile in the penalty shootout, in which Claudio Bravo stopped three penalties from Portugal, but he was convinced that the "quinas" will continue to give joy to the Portuguese people.
The preseason of Real Madrid will start on July 10, when the players of the first squad will have to return to the orders of Zinedine Zidane.
In principle, the Portuguese is expected to join the team for the tour of the United States, which includes from July 23 matches against Manchester United, Barcelona and Manchester City.