C'mon! You gotta win man: Neymar told Messi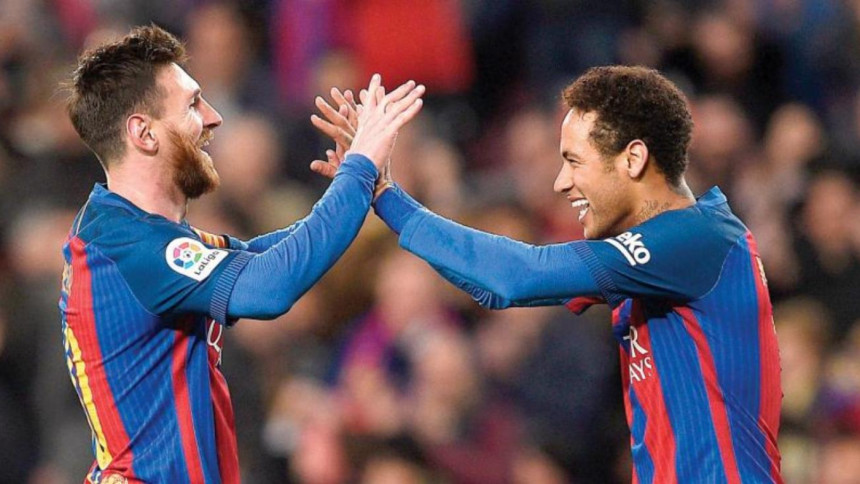 Barcelona defender Gerard Pique did an interview for the first time in his life and his guest was none other than the flamboyant Brazilian star Neymar.
Pique hosted an interview for The Players' Tribune, where he spoke with former teammate Neymar about the 2014 World Cup and Brazil's current World Cup squad among various things.
The two former teammates had a lively conversation and Pique mentioned that Brazil are looking in ominous form for the 2018 Russia World Cup. The defender pointed out to Neymar that the teams in qualifying rounds have gotten stronger.
"You guys are doing more than well. You've already qualified. How do you see these teams? How can they be suffering that much? The level of teams that didn't use to be that good has gotten better," Pique said.
Neymar suggested that teams are far more prepared to take on stronger opponents now.
"Yes, I think the level has gotten better. I think they are better prepared to play against stronger national teams, against better players," Neymar replied.
Messi's Argentina qualified for the Russia World Cup on the final round of the South American qualifiers with Messi scoring a hattrick against Ecuador. It was a difficult campaign for Argentina and Neymar pointed out the fact that big sides like Argentina suffer in the qualifying rounds as well.
"I think the preparation is very good because all national teams today manage to come out playing, manage to tie away games, and the football is very tough, very difficult … Eh, Leo's Argentina … Hahaha! … yet again, suffering a lot.
Pique, who is never one too miss out on a funny incident said: "I'll tell you, I've had him in the locker room and I tell you he has suffered Hahaha!"
Neymar informed that he was talking to Messi all the time during the qualifiers, reminding him to win.
"I've always talked with him[Messi] … 'ey c'mon you gotta win man! Otherwise — Hahaha! Out! And it's been tough for them, but we've done well."
Brazil finished top in the South American qualifiers with 12 wins from 18 matches where they produced some scintillating performances. Neymar agreed with Pique's suggestion that Brazil are finding the right balance in their squad.
"Yes, yes. Honestly, we're well structured. Right, we've managed to find our game."