AFC Cup
Can Abahani end int'l disappointment?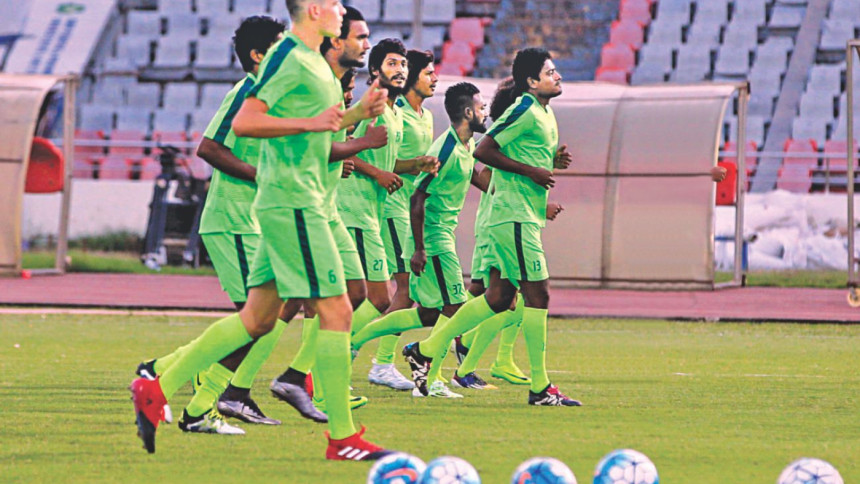 Bangladesh Premier League champions Abahani will be hoping for a turn of fortune on the international circuit when they take on Maldives league champions Maziya SRC in their Group E opener of the AFC Cup at the Bangabandhu National Stadium today.
After the failed attempt at Sheikh Kamal International Club Cup tournament in Chittagong, Abahani's Croatian coach Drago Mamic has been struggling to gel the new-look squad following the departure of five key players [Ariful Islam, Tapu Barman, Jewel Rana, Hemanta Vincent Biswas, Shakil Ahmed] and the 63-year-old coach has got little time to fine tune his fresh recruits --Sohel Rana, Rubel Mia, Raihan Hasan, Nasir Chowdhury, Yeamin Munna ahead of today's match against a strong Maldives side that includes eight national players and four foreign players from Kyrgyzstan, Serbia and Romania.
The biggest challenge for Mamic would actually be to select a perfect eleven from his new-look squad. He will also be hoping that his charges carry out his game plan accordingly to give Abahani a winning start in their maiden appearance in the AFC Cup, a tournament involving second-tier clubs from Asia.
"You know we prepared for 10 days for Sheikh Kamal Club Cup tournament and this time we also got 10 days to prepare for tomorrow's match. I want to forget what happened in the past. I think the players are mentally ready --as we have collected some players at the last moment," said Mamic at the pre-match press conference at the BFF house yesterday.
Abahani suffered from a goal drought in the Sheikh Kamal International Club Cup as they struck only twice in three games before being eliminated from the group stage but this time Mamic hopes that his forward lineup will not frustrate him.
"Tomorrow's match is very important for us because we are representing Abahani as well as Bangladesh. We will give our best to achieve a good result and stay on track," said Mamic, hoping that his marksmen are sharper this time around.
Captain Mamun Mia is upbeat about changing Abahani's fortune at the international level by winning the match.
"We will be trying to stage a comeback in the AFC Cup by winning the first match. We will be trying to carry on our Premier League performance to the AFC Cup," said defender Mamun Mia.
While Abahani have been struggling to pick up the right combination, Maziya SRC are seemingly optimistic to secure a full three points as they have come here on the back of three successive wins in the domestic competitions.
 "We are fully prepared for tomorrow's match. We know about them as they have a group of foreign players and a foreign coach and lots of national players but we don't know about the players who have been included last moment. I believe in my players and their performance and they know how to play tomorrow," said Maziya's Macedonian coach Marjan Sekulovski.