Brazil beat Colombia in Chape benefit game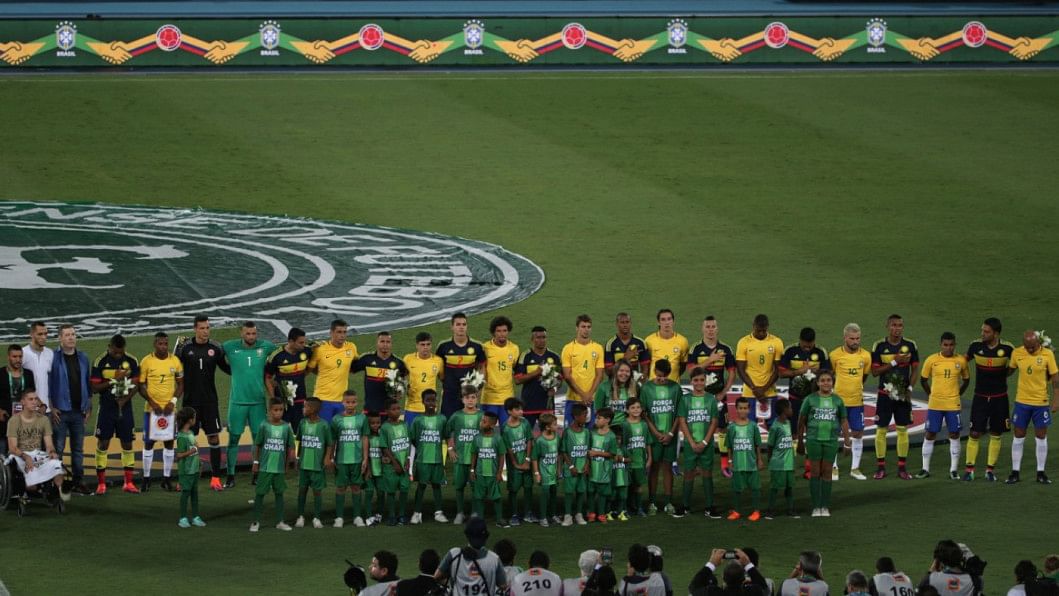 Brazil beat Colombia 1-0 in a benefit match for the families of those killed in the Chapecoense air disaster but Wednesday's game in Rio de Janeiro was marred by a disappointing turnout.
Only 18,695 people were in the 45,000 capacity Nilton Santos stadium for what was billed as 'The Friendship Game.' Some fans of club side Botafogo also booed Willian Arao, who left for rivals Flamengo last year.
The game, played less than two months after the tragedy, was another emotional night for players and fans.
Only six of the 77 people on board the Lamia flight carrying the Chapecoense team to Colombia for their Copa Sudamericana final survived the crash on Nov. 28.
Four of the survivors were Brazilians, three players and a radio commentator, and all four were introduced to fans before the game.
One of them, goalkeeper Jackson Follmann, was in a wheelchair after having part of his leg amputated as a result of the crash. The other two players, Neto and Alan Ruschel, have returned to training and hope to play again later this year.
Brazilian midfieler Diego said he had been honoured to play in the match.
"This was more than a game, I had the chance to be with Follmann and Neto, they are heroes," he said. "They are heroes and anything we can do to help them then we'll be there."
The players, along with commentator Rafael Henzel, received commemorative plates before the game and stood with the teams as they sang the national anthems.
Henzel then commentated on part of the game for O Globo, the television company that helped organise the game.
Globo, Brazil's biggest media company, said sponsors would guarantee at least 3.8 million reais ($1.2 million) to the families of those affected by the crash.
The game was played with only home based players from both sides, meaning the likes of Barcelona's Neymar and Real Madrid's James Rodriguez were not present.
Palmeiras striker Dudu got the only goal of the game two minutes into the second half when he headed home from close range after Fagner's cross rebounded to him.
Brazil won the match to record their seventh consecutive victory under coach Tite.