Chapecoense Real Tragedy
Bodies arrive home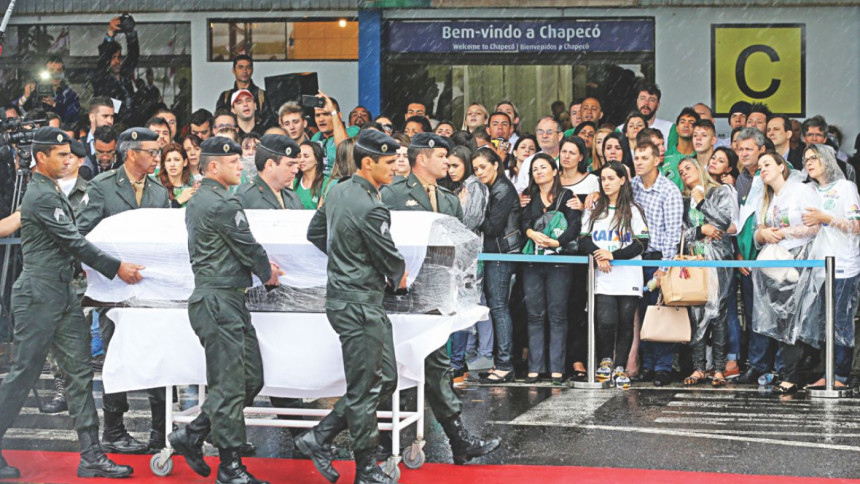 The bodies of 50 players, coaches and staff from a Brazilian football team tragically wiped out in a plane crash in Colombia arrived home Saturday for a massive funeral.
Fireworks lit up the sky over the stadium in Chapeco, in southern Brazil, as the Hercules cargo planes touched down at the city's airport in pouring rain.
The small city is holding a huge funeral to honour its team, Chapecoense Real -- an unsung club having a fairytale season until the plane flying it to the biggest match in its history ran out of fuel and smashed into the mountains outside Medellin on Monday night.
The city is expecting some 100,000 people -- half its population -- to descend on Conda Arena, the stadium where just 10 days ago Chapecoense were lighting up the pitch.
"I came to pay a final tribute from the fans to our team," said architect Alexandre Bledin, 34, wearing the club's green and white jersey.
"I still can't believe what happened."
The arrival was delayed by an outpouring of emotion along the way.
During a refuelling stop in the Amazon city of Manaus, the coffins were consolidated from three planes onto two, for logistical reasons. And they took off two hours late because local authorities and people showed up at the airport to pay tribute to the crash victims, the Air Force said.
In Chapeco, they will go on a funeral procession to the stadium and be laid out on the pitch.
Brazilian President Michel Temer was there to meet the planes on arrival.
The coach of the Brazilian national team, Tite, and FIFA chief Gianni Infantino will attend the memorial at the stadium. The latter canceled a trip to Australia to be there.
The crash has left the football world in mourning.
Football legends Pele and Maradona as well as current superstars Lionel Messi and Cristiano Ronaldo have led tributes to the fallen team in recent days.
A minute's silence for Chapecoense will be held before every Champions League and Europa League game next week.
In Brazil, other clubs have offered Chapecoense players so it can continue competing.
Chapecoense had been on their way to Medellin for the finals of the Copa Sudamericana, South America's second-biggest club tournament.
Inside the stadium, a single set of goal posts remains -- the one star goalkeeper Marcos Danilo Padilha, 31, defended in the semi-final match with a heroic last-minute save that sealed Chapecoense's trip to the finals.
"It's a horrible feeling, seeing this and knowing my son will arrive here in a coffin," said his mother, Ilaide Padilha.
"It's very sad remembering not only that stop (against Argentina's San Lorenzo), but also... him running across the grass with his arms wide open. My son was all passion."