Barca visit presents Champions League stage Conte craves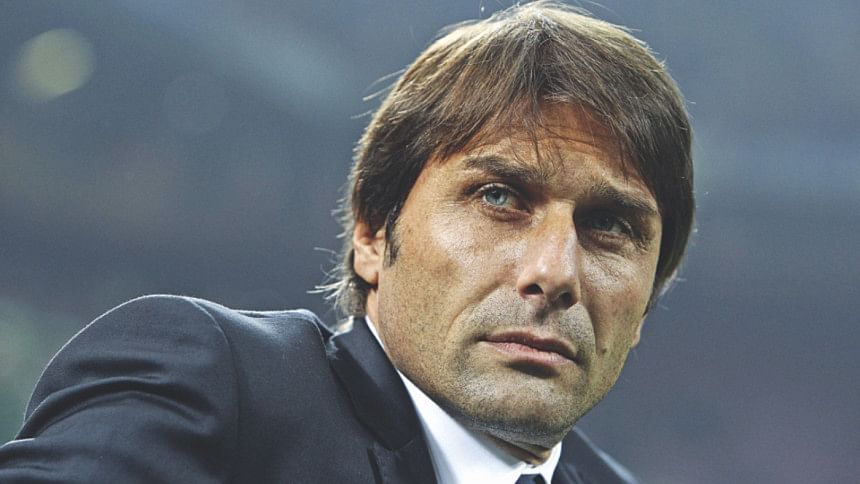 Barcelona's visit to Chelsea on Tuesday gives Antonio Conte the perfect opportunity to reaffirm his stature as one of Europe's greatest coaches.
"To play against Barcelona is a great challenge for us," Conte said after easing the pressure on his job with back-to-back home wins over West Brom and Hull in the past week.
"We must be excited to play this type of game, especially against this team. I consider Barcelona one of the best teams in the world."
Conte also considers himself one of the best coaches in the world, referring to himself despite a recent 4-1 drubbing at Watford as "a winner." He does so with some justification.
In a glittering coaching career, Conte made Juventus title winners again with three consecutive Serie A titles after a five-year drought.
He also surpassed expectations by leading an Italy side short on star names to the quarter-finals of Euro 2016, and delivered the Premier League in his debut season at Chelsea.
However, a second season slump at the Bridge and his fractious relationship with the club's hierarchy means most believe the Italian won't last at Chelsea beyond the end of the season at the latest.
Whether it is to convince Roman Abramovich and close aid Marina Granovskaia he should remain in charge next season or to attract the attention of Europe's other giants who may be looking for a coach come the summer, Conte needs Champions League nights to remember.
His two years in the competition at Juventus ended in a 4-0 quarter-final aggregate thrashing from Bayern Munich and an embarrassing group stage exit behind Galatasaray.
Conte complained then it was impossible for Italian sides to compete at the latter stages of the Champions League.
It didn't help his case then that his successor Massimiliano Allegri then led Juve to two Champions League finals in three seasons.
Conte's money complaints
There have been similarities between Conte's final days at Juventus and many of his public outbursts against the Chelsea ownership this season over his lack of input over recruitment and how much is spent.
"I think I'm a bit of a disaster to convince the club to buy the players," Conte said last week.
"I have to speak more with the managers who are very, very good to persuade their clubs to spend money and buy top players."
Conte may then welcome his meeting with the more softly-spoken Ernesto Valverde this week.
In Valverde's eight-month spell in charge, Barca have smashed their club record transfer fee twice for Ousmane Dembele and Philippe Coutinho.
Yet, it is in a very different way that Conte may be able to learn from Valverde as neither Dembele or Coutinho have made much impact on Barca opening up a seven-point La Liga lead and booking their place in the Copa del Rey final.
Instead, Valverde has made the best of what he inherited to turn Barca from the depths of a pre-season crisis into potential treble winners.
Neymar's decision to walk out on the club for a world record 222 million euros to Paris Saint-Germain was a huge loss that Valverde has used as an opportunity to reconstruct a more solid side that maintains the firepower of Lionel Messi and Luis Suarez in attack.
A change from Barca's traditional 4-3-3 to a 4-4-2 has seen them concede just once in their six Champions League games to date, and 11 times in 24 La Liga outings.
Meanwhile, the space left unoccupied by Neymar has unleashed left-back Jordi Alba as an attacking threat.
Alba was on target as Barca equalled a club record by avoiding defeat for a 31st straight La Liga game in a 2-0 win at Eibar on Saturday.
Most of all, Valverde's calm has restored stability to a club that badly needed a steady hand after a tumultuous summer.
That may be the lesson Conte and Chelsea can learn from most of all before careering towards another messy divorce at the end of the season.