Alli ends Chelsea run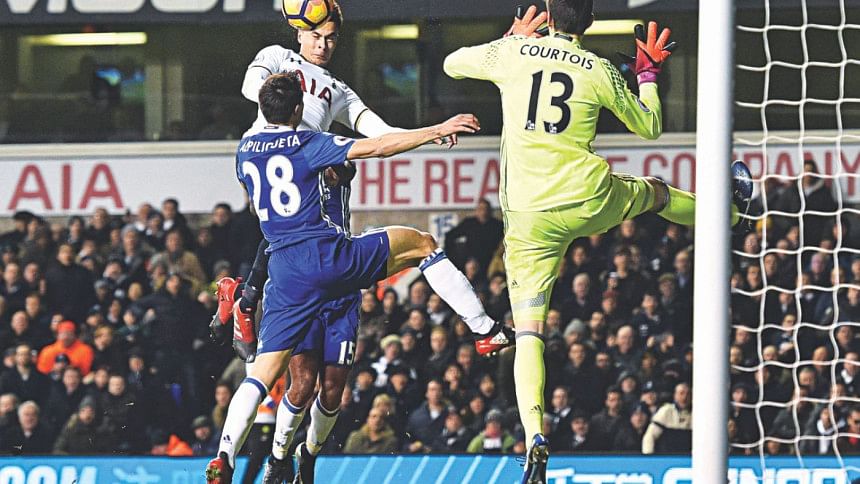 Tottenham Hotspur manager Mauricio Pochettino believes his side showed the spirit required to win the Premier League title after they ended leaders Chelsea's 13-game winning run.
Chelsea were seeking to become the first team to win 14 successive English top-flight games in the same season, but Dele Alli's headed double condemned them to a 2-0 defeat on Wednesday.
Spurs climbed to third place in the table and although they trail Chelsea by seven points, Pochettino believes they are no longer the callow team who lost out to Leicester City in last season's title race.
"I think it was a little bit tough last season to explain why in the end we don't win the title or lift a trophy," he told reporters at White Hart Lane.
"In different games I think we missed being more competitive like it was today. For me, what it means to be competitive is like today. Work hard, but compete in this type of game.
"You need to play, to suffer, to fight. Sometimes you need to give possession to them because they push you and in that moment you need to work hard and be strong in your mind.
"We need to be pleased and proud because we understand what it means to be competitive when maybe you cannot play in the way you normally play."
It was Spurs' fifth successive victory and gave them a measure of revenge for the 2-2 draw at Stamford Bridge in May last year that ended their title challenge.
Asked if Spurs were back in the title race, Pochettino said: "I think it was important for us to reduce the gap.
"Now the top four is very competitive. The gap still is important for Chelsea, but I think it was a perfect thing for us to arrive to third place and be close.
"That is important for us and it's a lot of games to arrive before the end of the season. A lot can happen in football."
Pochettino's decision to ape Chelsea's 3-4-3 system made for a cagey first half, but his side went ahead in stoppage time when Alli met Christian Eriksen's cross with a stunning header.
The pair combined again in the 54th minute in near-identical fashion, Alli leaping at the back post to head home Eriksen's deep cross for his seventh goal in four games.
"They were similar (goals), and fantastic," said Pochettino. "Dele was clinical. In front of goal he was great."
Chelsea's defeat prevented them from surpassing Arsenal's record of 13 wins in the same season from 2001-02, which the North London club extended to 14 successive victories the following campaign.
Arsenal had been the last team to beat Chelsea, a 3-0 loss in late September sowing the seeds for the leaders' extraordinary run, and manager Antonio Conte said his team were now a very different side.
"We have to restart, to continue to work. This defeat is totally different if you compare our defeats in September," said the Italian, whose side's lead over second-place Liverpool is now five points.
"Against Liverpool and Arsenal we weren't a team. Tonight we showed that we are a team and we are a strong team and this is important."
Conte dismissed one journalist's suggestion that he might think about jettisoning his 3-4-3 system in light of the defeat at Spurs.
"I think we found a good balance with this formation and we will continue," he said.
"It's very strange that you ask me after 13 wins in a row if I'm thinking about changing the formation -- to stop us, the other teams are changing to this formation!"
Chelsea's frustrations appeared to tell in a first-half argument between Diego Costa and Pedro Rodriguez, the former berating the latter for not making the right run.
But Conte played it down.
"It was a normal situation on the pitch," he said." A good chance and we waste this chance. It's normal disappointment."