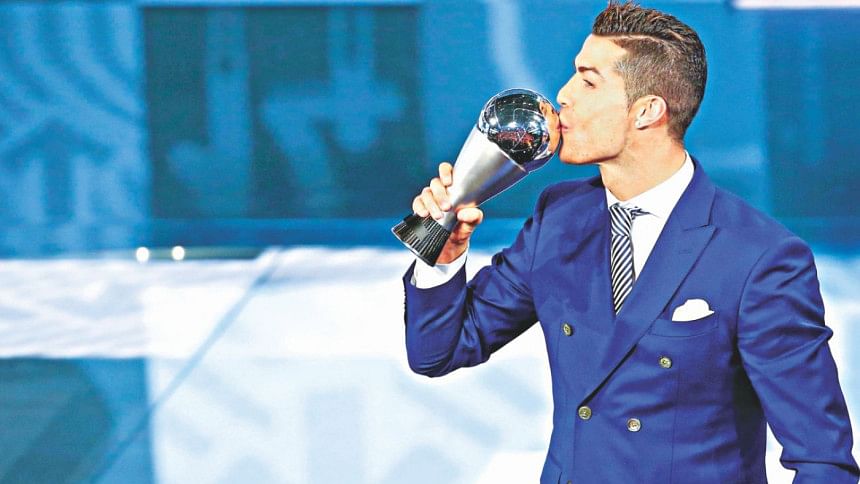 Cristiano Ronaldo was named FIFA's best men's footballer of 2016 on Monday, the latest prize after a glittering year for the Portugal and Real Madrid star.
Ronaldo bested France's Antoine Greizmann and long-time Barcelona rival Lionel Messi of Argentina for the honour.
Ronaldo had already won the Ballon d'Or after his third Champions League title, thanks in major part to his 16 goals in 12 games, as well as triumphing with Portugal at Euro 2016 -- the country's first major prize.
"It's incredible. It's not the first time I am getting an award, but this award is for me, the first time, and I am really happy. I would like to, first and foremost, thank my teammates, the whole team of Real Madrid and the coach and thank you for everything you have done.
"2016, I tell you was the best year of my career. I had a lot of doubts but I have lived up to the expectations. It was a year that was magnificent both personally and at a sports level. I will never forget this year. I would like to thank my family, my team and all those who voted for me, the captains and even the media," exclaimed Ronaldo after being handed the prize from FIFA President Gianni Infantino.
"I don't really have anything to add because words speak for themselves and I am really happy. I am sorry that some players from Barcelona aren't here but that's understandable, but thank you to everyone," he added
The honour makes Ronaldo the first man to win the FIFA "Best" men's player distinction.
World football's governing body has launched the new award series after ending its six-year collaboration with France Football magazine for the Ballon d'Or.
Meanwhile, Claudio Ranieri was named FIFA's best men's coach of 2016 on Monday, after leading Leicester City to a fairytale Premier League title triumph.
The Italian beat out France's Zinedine Zidane, who steered Real Madrid to Champions League glory in his first year as manager and Fernando Santos, the mastermind behind Portugal's Euro 2016 championship success.
Ranieri, 65, said the honour was "incredible" after receiving the prize from Argentine football legend Diego Maradona.
Under Ranieri's leadership, Leicester pulled off one of the greatest shocks in English football history by defying title odds of 5,000-1 to lift the Premier League trophy.
Having miraculously avoided relegation the previous season, the Foxes rode that wave of momentum all the way to a title.
Asked about his extraordinary season upon entering the award venue in Zurich, Ranieri said: "The little team won the title. It's amazing and I am very happy."
Aside from the above awards, the Best FIFA Women's Player Award went to Carli Lloyd. Lloyd said that she was a bit surprised to win the award since her competitors were quite strong this time around. She however, thanked her teammates and also her husband, whom she recently married, for his support.
Silvia Neid, who led the German women's football team to gold in the Rio Olympics last year, was awarded the Best FIFA Women's Coach Award. The FIFA Puskas Award of 2016 went to Malaysia's Mohd Faiz Subri, whose swiveling free kick shocked the world.