De Kruif irked by league deferral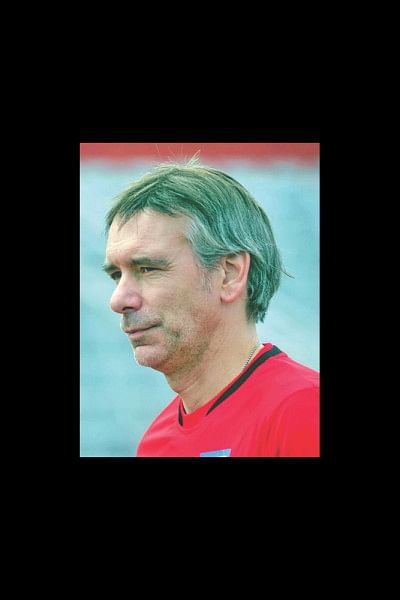 Bangladesh national team's preparation for the upcoming World Cup and Asian Cup qualifiers against Australia and Jordan has been shrunk to only three days after the last fixture of the Manyavar Bangladesh Premier League was shifted deferred for a second time.
The preparation camp was scheduled to get underway tomorrow, as the one remaining league match between Sheikh Jamal DC and Abahani was slated for today after being shifted from August 13 deadline earlier. However, the two clubs have now allegedly got into a negotiation, and asked for a postponement of the match to Saturday which has been accepted without hesitation by the league committee. 
This situation has seemingly irked the national team's head coach, Lodewijk de Kruif, who returned from Netherlands on Monday.
"We need to finalise the programme for our preparation, which is not being done yet. I have heard from the BFF that it postponed the league match by two days which means when it (preparation camp) will be shifted by two days. It is a problem for me. I was supposed to get them the day before yesterday. Time is running out and we have to play three important matches," De Kruif told reporters at a city hotel yesterday evening.
Realising the enormity of the challenge of facing the Socceroos at their own turf, the Dutchman feels he has been left with little time to prepare for the 'strongest team to face'. He is thinking of getting the side fine-tuned and mentally prepared for the challenge since he can't get the practical sessions on the pitch.
"For me, it is not about a lot of training sessions. It is about giving them a lot of balance between feeling good and being ready to play the match," said de Kruif. "In that area, I need more time but we don't have time. We have to prepare them in high speed and that's what I will try."
Bangladesh fly off for Australia on August 26 and will play a friendly against Malaysia in Kuala Lumpur on August 29 before being hosted by Australia in Perth on September 3. The men in red and green will then host Jordan in Dhaka on September 8.