Valverde undergoes successful kneecap operation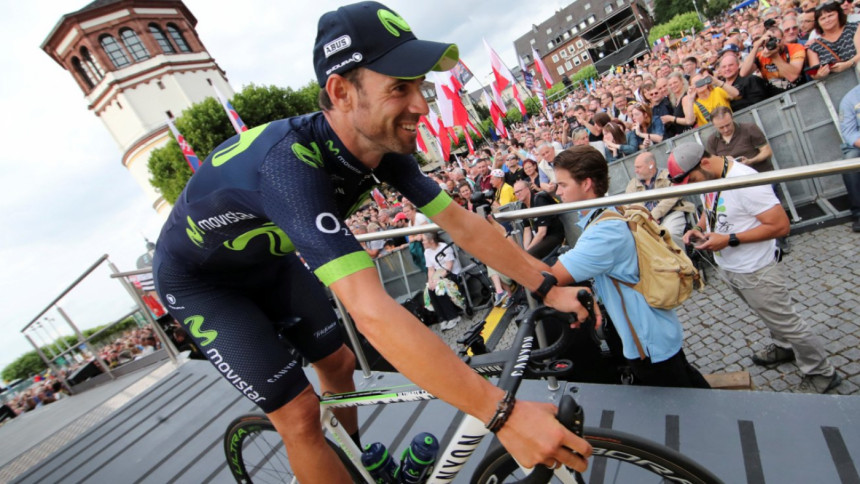 Spanish veteran Alejandro Valverde has undergone a succesful operation to fix a broken kneecap he suffered in a crash that knocked him out of the Tour de France, his Movistar team said Sunday.
The 37-year-old was taken to a hospital in Dusseldorf on Saturday after he came down hard on a slippery bend in miserable wet conditions during the opening stage 14km time-trial in Germany.
He broke his left kneecap and suffered a blow to the ribs as well as cuts in the fall.
"Valverde was operated on with success this morning at Dusseldorf's University Hospital for the injuries caused by yesterday's fall which forced him to abandon the 2017 Tour de France," Movistar said in a statement.
"Valverde will remain in Germany at least two more days before returning to Spain to continue a recovery that will keep him off the road for several months," it added.
The team released a picture of a smiling Valverde, who was third overall two years ago, lying on a hospital bed with two fingers on one hand raised in the air in a V shape.
It is the third time Valverde has had to pull out of the Tour following his failure to finish in his first two participations in 2005 and 2006.
He was expected to play a pivotal role in helping Tour contender Nairo Quintana in his bid to defeat reigning champion Chris Froome during the Tour's mountain stages.
Esta noche me han operado la fractura de rótula en el Hospital Universitario de Düsseldorf. Todo ha ido bien. Gracias a todos por estar ahí pic.twitter.com/Ks2uNKCVUpalejandro valverde (@alejanvalverde) July 2, 2017