Young players shine on first day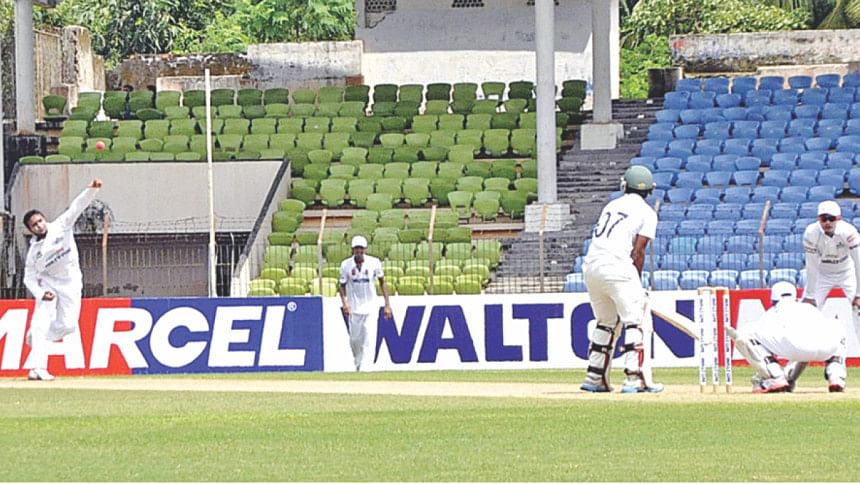 The focus was on the national stars as the first round of the National Cricket League (NCL) offered them an opportunity ahead of the home series against Australia, but three national hopefuls hogged the spotlight on the first day of the four-day matches yesterday.
19-year old Mosaddek Hossain struck the season's first century, while 24-year old off-spinner Mahmudul Hasan grabbed five wickets and 25-year old left-arm spinner Sanjamul Islam claimed six wickets on the opening day. From the national colours, bowling sensation Mustafizur Rahman captured three wickets.
Shahriar Nafees (75) and young Pinak Ghosh (21) gave Barisal a good start against hosts Rajshahi, sharing a 73-run opening stand and, after a mini-collapse, Mosaddek took charge on his way to making 122 off 149 balls that featured 11 fours and six sixes as Barisal went on to post 302 runs in their first innings. Shohag Gazi was the other notable scorer with a 54-ball 52.
Sanjamul was the most successful Rajshahi bowler with figures of 6-123. However, losing two wickets at stumps in nine overs added woes to the hosts' camp.
In a rain-interrupted affair, Dhaka's batting failed against hosts Khulna. Mustafizur and left-arm spinner Abdur Razzak shared six wickets to initiate the Dhaka batting collapse. Shakib Al Hasan took one wicket on his return to the four-day league after a three-year break.
Saif Hassan hit highest 68 as Dhaka ended the day on 174-8.
Rangpur's two new ball bowlers, Saddam Hossain and Sajedul Islam, initiated an early collapse and then Mahmudul Hasan took the charges to wrap up Dhaka Metro's first innings for 238 runs. Three half centuries came from Shamsur Rahman (54), Marshall Ayub (65) and Elias Sunny (52 not out), but their efforts were not good enough for Metro to put up a big score at the Shaheed Chandu Stadium in Bogra.
Mahmudul captured five wickets including the one of Mahmudullah Riyad (16).
At Fatullah, a 129-run unbeaten fifth wicket stand between Rajin Saleh (72 not out) and Ruman Ahmed (70 not out) helped Sylhet to finish the day at 240 for 4 against Chittagong.
SCORES IN BRIEF 
BARISAL: 302 all out in 78.3 overs (Nafees 75, Pinak 21, Mosaddek 122, Gazi 52; Sanjamul 6-123)
RAJSHAHI: 19-2 in 9 overs (Jahurul 8 not out, Nihaduzzaman 4 not out; Towhidul 1-5, Gazi 1-9) 
DHAKA: 174-8 in 62.2 overs (Saif 68, Nadif 35 not out; Mustafizur 3-24, Razzak 3-60)
DHAKA METRO: 238 all out in 78.4 overs (Shamsur 54, Marshall 65, Elias Sunny 52 not out; Sajedul 2-28, Saddam 2-31, Mahmudul 5-44)
RANGPUR: 12-0 in 7 overs (Saymon 1 not out, Tanveer 5 not out)
SYLHET: 240-4 in 90 overs (Imtiaz 37, Rajin 72 not out, Ruman 70 not out; Merajul 2-35, Nabil 2-72)