'World T20 loss against India still hurts a lot'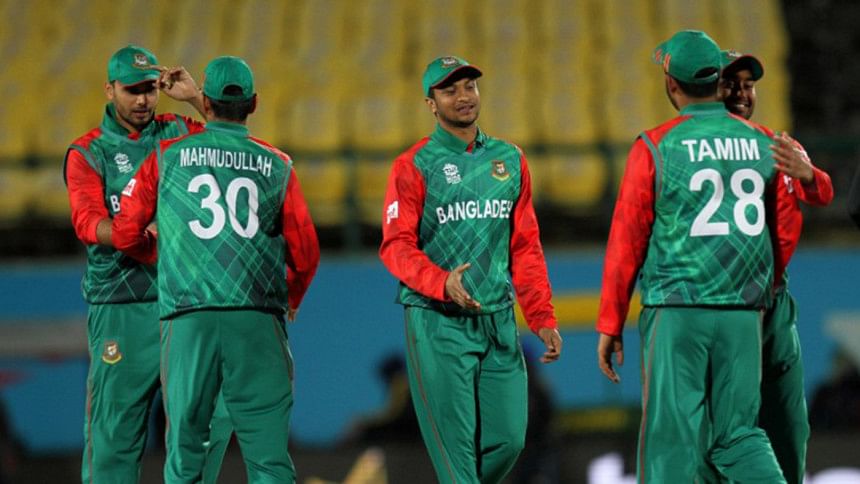 Shakib al Hasan is Bangladesh's biggest cricketing star alongside Mashrafe Mortaza. While Bangladesh captain's leadership abilities stood out in tough times in the ICC World Twenty20 in India earlier this year, Shakib's all-round show (129 runs and 10 wickets) helped the team come up with a much-improved performance.
However, their efforts were overshadowed by the one-run loss against India that proved to be the decisive knockout blow.
It's hard to tell if Shakib was expecting a question on the loss when he sat down for a chat with Cricbuzz at the team hotel in Kolkata, but when the question did arrive, he wasnt surprised. "Yes, it still hurts," he says trying not to make eye contact.
His reaction, though very subdued, reveals it was a bitter pill to swallow. Shakib takes a moment to think about what he wants to speak and then says: "I don't think we, as a team or as a nation, can forget that game ever. I hope that some day, we play a match like that against India and win it so that we can forget that game. But, it still keeps coming back."
Shakib isn't one to shy away from talking about the loss or dismiss the questions. As the conversation flows, fully in Bengali, we get to a point where we start talking about the mindset during that chase. Not to forget, that after a brisk start from Tamim Iqbal, it was Shakib who kept them in the game with his quick-fire 15-ball 22.
Read: Tigers fall short by one run
"It's difficult to explain what happened. Chasing is always difficult and tension played a big role," he starts. "Those who are good at chasing, they always plan well. We can't just keep focusing on the scoreboard because it builds additional pressure.
"We should have approached it the same way we would have while batting first. I feel that's the better plan. Yes, the target and the overs reaming are always there at the back of the mind. Once you get into a good position, then you can adjust and time the chase well. We didn't do that."
Well, the game, is now a part of the record books. Most of the Bangladesh players have moved on and so has Shakib. He's now keen on focusing on the Indian Premier League. The game against Sunrisers Hyderabad first.
The all-rounder has now been part of the Kolkata Knight Riders franchise for six years. He has repaid the faith with both runs and wickets - 490 runs at a strike rate of 132.07 to go with his 42 wickets in the 41 games he has played so far. And Shakib believes it's the IPL that helped him improve as a cricketer.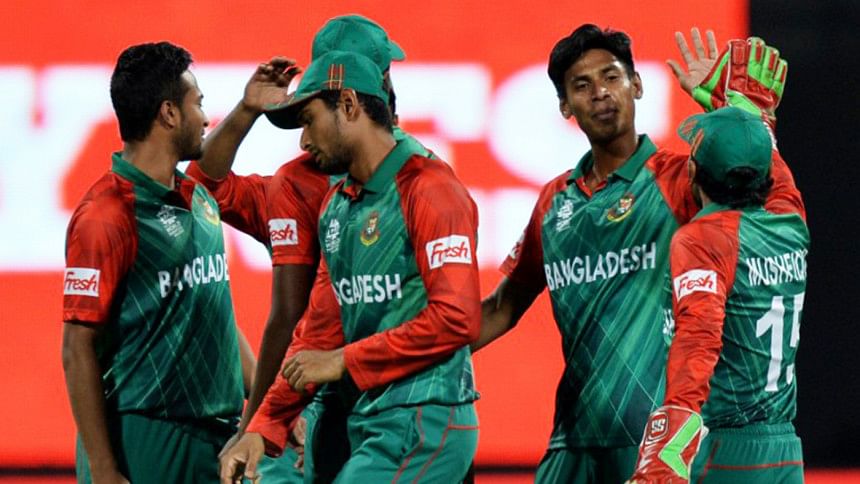 "It has been great, he gushes talking about the journey with the Knight Riders. "It has been six years - I missed a few games due to international duty. I've enjoyed being part of this franchise. This opportunity came to me at a crucial time. This was needed. IPL, and playing for Kolkata, has helped me improve as a cricketer.
Also read: Tigers conjure a heartbreak
"The support staff has always been very helpful. Not just for me, but for everyone in the side. Whenever we need anything, they try to provide us with it. If you look at the support staff we have, there is Wasim Akram, Jacques Kallis, Simon Katich, Mark Boucher. They are all legends of the game. So obviously, you expect the best from them."
Kolkata have reached a stage in their campaign where they need to win the last game - against Hyderabad - to ensure a spot in the play-offs.
It's now going to be test of their abilities and, more importantly, their temperament. In the last edition as well they needed one win, with two games remaining, to qualify for the play-offs. They ended up losing both and were knocked out.
One of the threats standing between them and the play-offs berth is Mustafizur Rahman. Shakib, being his teammate, can reveal his secrets to counter the pacer's variations.
However, the all-rounder has a different take on that. "We don't have any plans as such but we'll discuss about him in the team meeting," he says with a cheeky grin. "I obviously won't reveal all his secrets. Ultimately he represents Bangladesh and I want him to keep doing well for the country. There's so much of analysis now that in the end people will figure him out, but I'm not revealing any secrets at the moment."
It's also time to wind up the conversation as Shakib continues signing merchandise for the team's sponsor. In IPL, he plays a smaller role for KKR but in Bangladesh, he's driving their cricket-growth.
The recent performances have thrown up plenty of young stars for Bangladesh but it's Shakib's and Mortaza's efforts that ensure that their cricket keeps moving in the right direction. T
hat he has Bangladesh cricket's best interests close to his heart is pretty evident and it is not hard to understand why he's loved so much back home.