Will Mirpur be ready for Pakistan?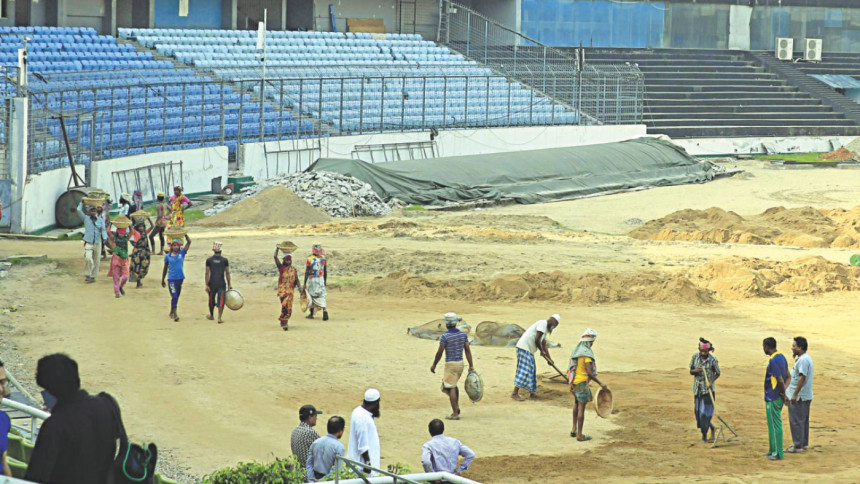 There is a possibility that the Sher-e-Bangla National Cricket Stadium (SBNCS) in Mirpur may not host Pakistan's tour of Bangladesh, which is scheduled to take place around July, after the Champions Trophy.
The SBNCS is undergoing major renovation, because of which around six inches of the topsoil from the ground is being replaced. A few pipes at the ground are being replaced as well.
This is being done in order to make it easier for the rain water to seep through the ground. According to the Bangladesh Cricket Board's (BCB's) grounds committee chairman, Hanif Bhuiyan, the entire process of getting the ground ready might take until August.
"The top six inches of soil have become hard which makes it difficult for the rainwater to go through. That's why we decided to take this step. The last time the BCB did a makeover like this was probably 10 years ago," said Bhuiyan.
"I am confident that the ground will be ready by around July. And after that we will need 45 days to grow the grass. We are targeting to finish this work before the Pakistan series.
"But I cannot say for sure if the series will be played here. New grounds often have problems.  There may be problems with the outfield. Be it Pakistan or Australia [in September], I am sure the ICC and BCB will check the Mirpur ground before the series.
"But there's nothing to worry because the other grounds in the country -- Sylhet, Fatullah, Chittagong -- are all prepared. I can get them ready for an international series in a very short time," added Bhuiyan.
He further said that the BCB has decided to create a nursery from where they plan to supply grass to all the venues of the country.