Wary Tigers seek high ground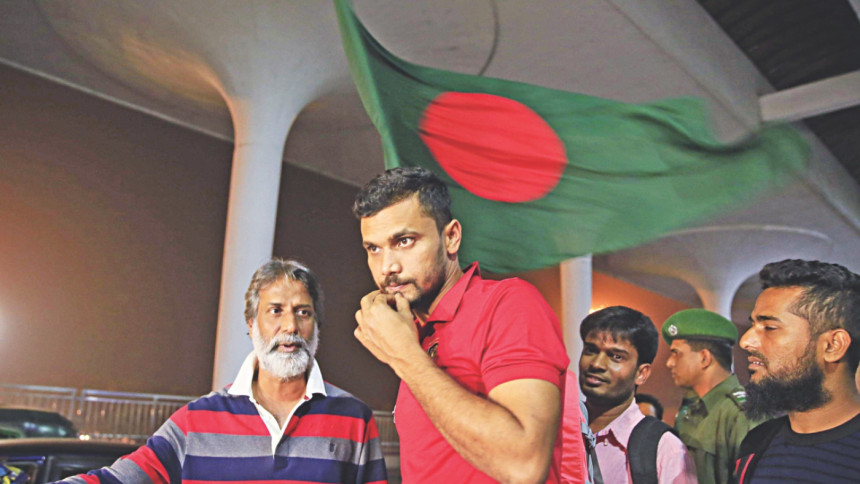 With an aim to reach a higher pedestal, the second group of the Bangladesh national cricket team, including limited-overs captain Mashrafe Bin Mortaza, Shakib Al Hasan, Tamim Iqbal, Mahmudullah Riyad and a host of others, left for Australia yesterday night.
While the first group of players, including Test skipper Mushfiqur Rahim and a number of players who were done with their Bangladesh Premier League commitments, left on November 8, the remaining cricketers caught the Singapore Airlines flight last night, which left at around 10 pm.
The 23-member team will spend two weeks in Australia, preparing for their tour of New Zealand. The tour will begin on December 26 with an ODI series. Bangladesh will play three ODIs, three T20Is and two Tests within the next one month.
Prior to their departure, the common sentiment among the players was that of caution. While they were no doubt confident about the series, they do not want to overplay expectations this time.
Take for instance the case of Tamim Iqbal. The left-hander is generally an avid talker prior to any series. He often speaks about targeting centuries and other landmarks, this time though the star opener was not too keen to express himself before the New Zealand series.
Speaking to The Daily Star yesterday, the left-hander said: "If you must write something, then just ask everyone to pray for us. Hopefully we will do well. Other than that, I don't really want to say anything. Let's see how it goes."
Mashrafe Bin Mortaza, who had spoken to reporters on Friday morning, said that the tour would be difficult but that his team are ready for the challenge. "The quicker we adjust to conditions over there, the better for us. It's going to be difficult but I am sure we can take good memories from the wins that we have had at home in the last two years. Playing away from home is a new challenge and hopefully we can do well," he had said.
Mashrafe's deputy in limited overs cricket, Shakib Al Hasan, had a similar message and hoped for a good start. When asked about his thoughts regarding the New Zealand series after the final of the BPL on Friday, he said: "We will be playing in new conditions. We will be going out after a long time and it will be a big challenge for us. Hopefully the camp in Australia will help us. We need to start the series well. If we can start the ODI series well, then I believe we can do well throughout the series."
Mahmudullah Riyad, the player of the tournament of the recently concluded BPL was a bit more positive. He reckons that this was a good time to play New Zealand.
Riyad's positive mindset might be based on the fact that he had a brilliant time in Australia and New Zealand during the World Cup in 2015.
In fact, it's not just Riyad; quite a few Bangladesh players have recorded their best numbers against New Zealand.
Take for instance Mominul Haque. The left-hander averages a staggering 188 in two Tests against New Zealand and he has two centuries including his highest score of 181 against them.
Shakib's best bowling figures in a Test innings, seven for 36, was against the Kiwis. Rubel Hossain has a hattrick against New Zealand in ODIs and has recorded figures of six for 26 against the Kiwis. 
All these numbers, of course, were recorded at home. Away from home, Bangladesh lost all seven of their ODIs and sole Test against New Zealand. The last time they played a bilateral series in New Zealand was back in 2010 when they lost the ODIs 3-0 and the Test series 1-0.
On the whole, Bangladesh have beaten New Zealand in eight ODIs and have lost 17. They will however  take heart from the fact that they have beaten New Zealand seven out of eight times in the last five years.
Having set a brilliant record at home, the Tigers now hope they can replicate their performance abroad. As Mashrafe put it on Friday, even the most prominent sides struggle abroad and from that perspective, it is going to be very difficult for Bangladesh.
While that is the harsh reality, the country's cricket fraternity hopes that the men in green can take inspiration from their two-week camp in Australia and further break landmarks.