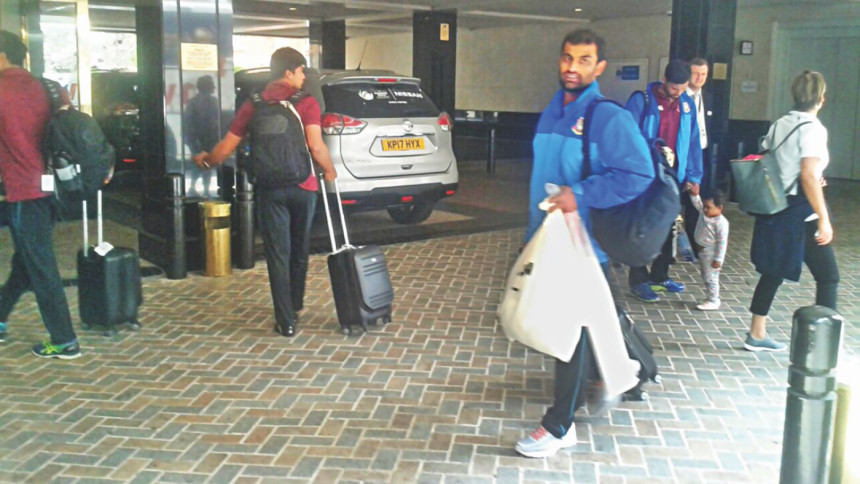 The Bangladesh cricket team reached London in the afternoon yesterday, where they will be based for their first Champions Trophy match against England on June 1 at The Oval and before that, their second Champions Trophy warm-up against India at the same venue on May 30.
Although practice matches are typically contests where wins and losses do not matter much, the manner in which Bangladesh lost their first pre-tournament warm-up against Pakistan in Birmingham on Saturday was a cause for concern and the team, a lot of whom were fasting, were a little downbeat upon their arrival at the Grange City Hotel in East London at around 2:15pm yesterday.
In Saturday's match Bangladesh had Pakistan on the ropes after getting them seven-down for 242 after 41.3 overs, chasing 342. It was then that a relative unknown by the name of Fahim Ashraf, who came in to bat at number nine, smote an unbeaten 30-ball 64 to deliver a scarcely believable two-wicket win with three balls remaining.
There was something else that was scarcely believable about the match, and that was the distance of one portion of the boundary from the pitch on which the game was played. The boundary behind square on one side of the wicket was approximately 40 yards away from the wicket, which is far short of the usual minimum of 60 yards.
It was learnt that Bangladesh were unwilling to play the match because of the boundary issue, and that coach Chandika Hathurusingha had also gone to his Pakistan counterparts on the morning of the match. However, the Pakistan camp was desperate to get some match practice under their belt.
The match was played on a wicket at the edge of the strip of pitches at the historic stadium. The curator reportedly had no role to play in the decision as the ICC had instructed him to prepare the wicket for that particular practice match six months ago. It was also learnt that the issue was taken to the International Cricket Council.
The batsman who caused all the damage, however, did not seem too bothered by the boundary's proximity.  "We initially tried to hit towards the smaller boundary, but they kept bowling an outside-off line to make us hit towards the longer boundary. So we adjusted our game and kept hitting the ball straight. We slowly started to believe that we could hit the ball no matter where it was pitched. We didn't worry about the longer boundary, we just played our shots," Fahim said after the match.
Bangladesh had not employed two of their main bowlers in Mustafizur Rahman and Rubel Hossain, and were reportedly confident of a win until three overs were left in the match. It was then too late to bring the two in. At the very least, regardless of short boundaries and rested players, the loss is a warning sign that the Tigers will do well to heed.