Warner applauds Fizz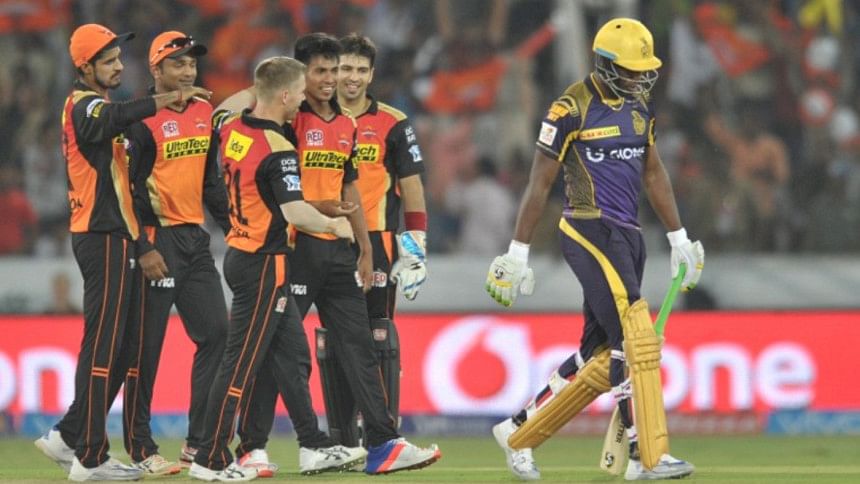 Sunrisers Hyderabad skipper David Warner, who inspired his side to their maiden IPL win, showered praise on Bangladesh's young left-arm pacer Mustafizur Rahman who formed a deadly combination with India's Bhuvneshwar Kumar in this Indian Premier League season.
"Obviously, Mustafizur Rahman is a promising player for Bangladesh. It is a credit to him that he has played outstanding cricket along with Bhuvi. Hope he keeps fit and strong for future games," Warner told a post-final press conference in Chennai on Sunday night.
Asked Warner as a captain what he was thinking at that stage, he said: "Our quest was to maintain composure while Chris Gayle was going after our bowling. I spoke to the bowlers to bowl wide and slower balls but despite that he (Gayle) was striking the ball with power. But we knew if we could get quick wickets, it would be hard on the next batsmen to play shots.
Warner led from the front with a sparkling 69 off 38 balls before Bhuvneshwar and Mustafizur bowled brilliantly in the death overs to register an eight-run win for Sunrisers over Royal Challengers Bangalore in the IPL final last night.
Sunrisers middle-order batsman Yuvraj Singh complimented Fizz and Bhuvaneshwar Kumar for their "great finish in the end."
New Zealand's bowler Trent Boult of Sunrisers also joined the chorus of praise for Fizz saying "in terms of death bowling, it doesn't get better than that."
Indian cricket writers felt it was the combination of Fizz and Bhuvaneshwar which have always given the decisive edge to the Sunrisers in the ninth edition of the tournament.
Mustafizur Rahman finished the competition with a total haul of 17 wickets.