Want a second Ambrose in Bangladesh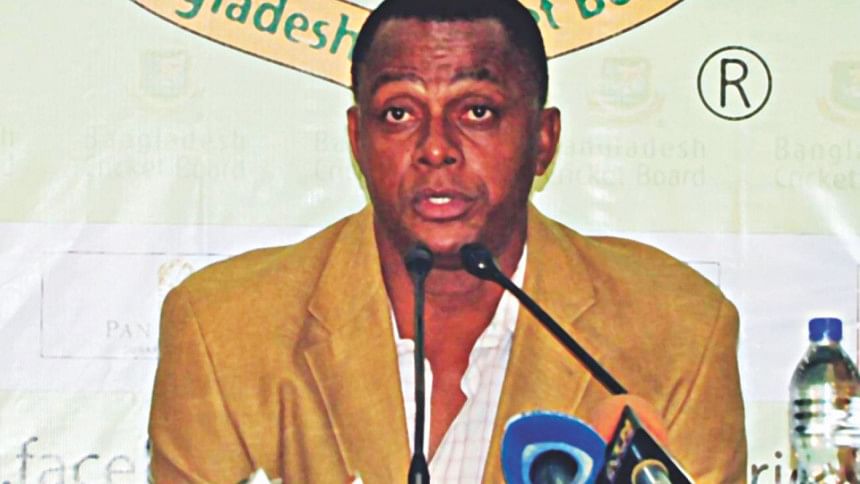 Bangladesh's new bowling coach Courtney Walsh has said that he hopes that he can pass on the spirit that he and Curtly Ambrose had shared during their playing days to the Bangladeshi pacers. He also said that he wants to be a father figure and mentor to the Bangladeshi players rather than just being a coach.
The former West Indies captain, who has been signed as Bangladesh's specialist bowling coach till July 31, 2019, spoke to the media for the first time yesterday afternoon after his arrival on Saturday night.
"In terms of my role here in Bangladesh, I am not here just as a coach, I am here as a mentor as well. I have always been a part of cricket, as part of Jamaica and the West Indies. I always try to get a couple of fast bowlers under my wing to mentor.
"Curtly Ambrose was one of them. So if I can get a second Curtly Ambrose in Bangladesh I will be very happy because when he came into the team, I was one of the first one he looked up to and we probably had one of the best partnerships. So if I can pass that on to any two young Bangladeshi bowlers I will be very, very happy," said Walsh.
"I will work with them not just as a coach but also as a father figure and a mentor. I can help to relive the situation they might find themselves into and sometimes it's best from up there. I remember Malcolm Marshall, Joel Garner, that's what they did for me. So I will be hoping to pass that on to the youngsters and the Bangladesh team as well," he added. 
The West Indian further said that he had decided to join the Bangladesh Cricket Board since he was impressed with the way the country's cricketing structure has grown over the years. This is his first ever visit in Bangladesh and he hopes he can help further contribute to the growth of the game here.
"I remember when Nizam[uddin Chowdhury, BCB CEO] got in touch, at first I said that I will think about it. We went back and forth and back and forth and then he told me that I was their number one guy. That's something that told me how serious they [BCB] were about me," he said.  
"My aim is to improve Bangladesh cricket as much as I can. I am happy and excited about the youngsters here. Also from what I have seen so far people in Bangladesh are very warm and friendly. I have never played here in Bangladesh, so this is an opportunity for me to come here and meet new friends and take a new challenge. I have always liked challenges. I hope by the time I leave Bangladesh you see some improvement," he added.
While Walsh has coached domestic teams before, this is the first time that the West Indian will be coaching an international side. He described it as a dream come true.
"It's something that I have always dreamt of. I didn't have to think too hard [before accepting BCB's offer]. It's something that I wanted," he said.