Unruffled Afridi thanks Kashmir again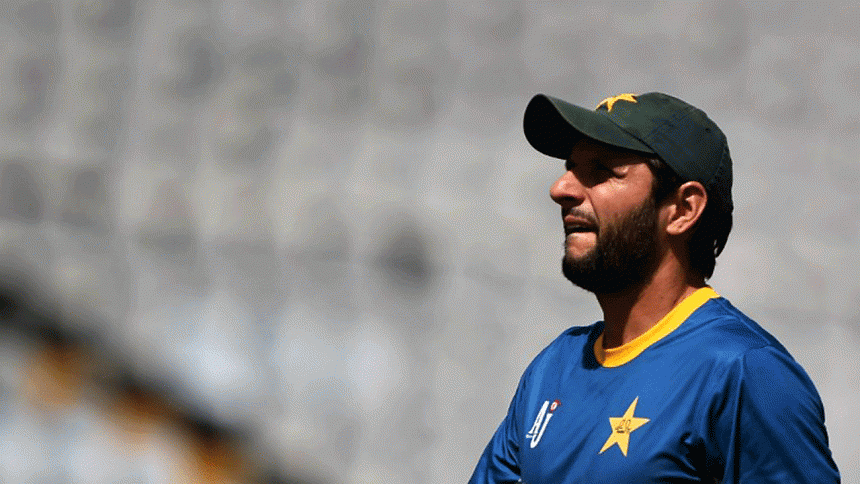 Unfazed by the criticism he drew for mentioning Kashmir in the previous match, Pakistan cricket captain Shahid Afridi on Friday once again thanked supporters from the valley for turning up to cheer his team in the lost World Twenty20 match against Australia in India.
"I want to thank the people of Kolkata (the venue of a previous World T20 match against India) for supporting us. I thank people who came and supported us from Pakistan and Kashmir. I also want to thank the BCCI for taking good care of us in India," Afridi said in the post-match presentation after Pakistan's 21-run loss to Australia drawing a loud applause from the stands, reports Indian weekly English news magazine Outlook India.
The defeat knocked Pakistan out of the World T20.
In the previous match against New Zealand, Afridi had similarly thanked supporters from Kashmir during the toss, a comment that was criticised by BCCI Secretary Anurag Thakur, it said.
Thakur had said that Afridi's comment was "not politically correct".
Afridi, who is set to be sacked as Pakistan captain after returning home, triggered quite a furore at the beginning of the tournament itself when he stated that his team is loved more in India than back home.
That remark was lambasted in Pakistan with former captain Javed Miandad going to the extent of saying that the all- rounder should be ashamed of himself.
Taking a dig at those who criticised him for that statement, Afridi today said, "My comment was meant for educated people."
After the defeat against Australia today, Pakistan skipper Afridi reiterrated that he will take a call on his retirement after returning to his country.
"Whatever is better for the country, I will go with that. I will see my form. There is pressure, media pressure. I will discuss with my family and even Wasim Akram before taking a call," said Afridi, who is set to be sacked as Pakistan Twenty20 captain.
"As a player, I am fit. As a captain, I am not fit. I have enjoyed my captaincy. The team management, selection committee, and (PCB) Shahryar Khan have helped me out," he added.