Tigers treated to Maori hospitality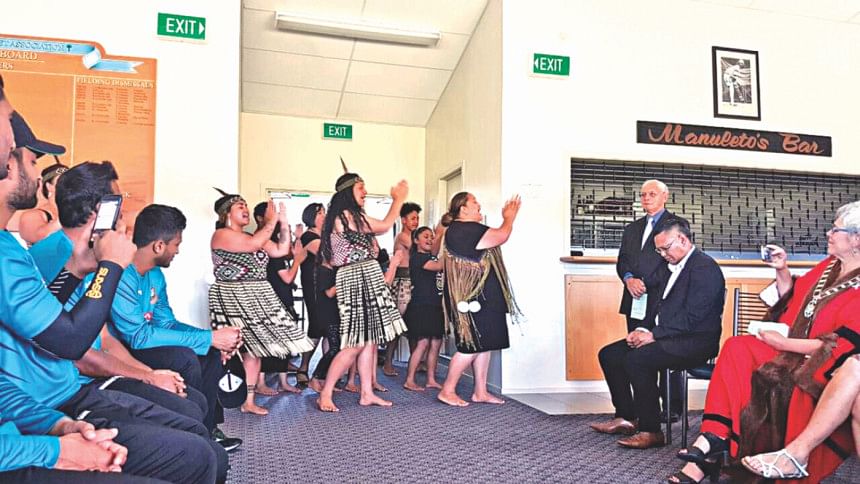 It was an eventful day for the Bangladesh national cricket team yesterday. Not only did they go through an intense training session at the Cobham Oval in Whangarei, they also got a chance to witness a cultural show at the venue and meet the mayor of the region.
Following their training session, they were officially welcomed by Mayor Sheryl Mai of the Whangarei District Council. During the programme the players were treated to a Maori cultural performance.
Women dressed up in their traditional attire sang and danced for the Tigers. While it was clear that the Bangladeshi players did not really understand much of what the performers were singing, they definitely did seem to enjoy the show.
Mushfiqur Rahim who was seated right at the front along with Mahmudullah Riyad and head coach Chandika Hathurusingha seemed to enjoy the programme most. While being seated, he actually tried copying the dance moves for a few seconds and then stopped as soon as the moves became a bit more complex.
After the programme, the national team thanked the organisers by singing their team song 'Aamra Korbo Joi.' All the players stood up and sang the song for close to a minute before leaving the premises.    
It is a song that the Bangladeshi players generally sing after they win a match. In this case though, the New Zealand series is yet to begin, but by singing the song the players showed their appreciation and also expressed their enjoyment of the programme quite.
Aside from the above, the Tigers were also approached by fans, originating both from Bangladesh and New Zealand. Young pacer Taskin Ahmed, who is likely to play a big role in the seam-friendly conditions of New Zealand, was one of the more popular players among the local youth.