Tigers to play tri-series in Sri Lanka next year
The first day of Bangladesh's 100th Test yesterday was a big day in more ways than one, as some big players of international cricket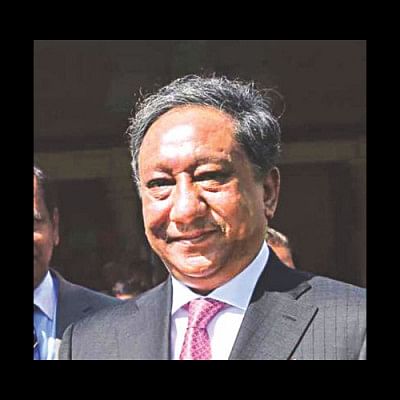 The first day of Bangladesh's 100th Test yesterday was a big day in more ways than one, as some big players of international cricket were present at the P Sara Oval in Colombo, namely Bangladesh Cricket Board (BCB) president Nazmul Hassan Papon, Sri Lanka Cricket (SLC) president Thilanga Sumathipala and Board of Control for Cricket in India (BCCI) CEO Rahul Johri.
A meeting around noon among the three cricket bosses gave birth to a tri-nation T20 tournament, ostensibly to celebrate Sri Lanka's 70 years of independence and 70 years since SLC's establishment, to be held from March 15, 2018 in Sri Lanka.
Elsewhere, International Cricket Council (ICC) president Shashank Manohar, a man instrumental in the effort to dismantle the Big Three (India, Australia and England cricket boards) stranglehold on the ICC, resigned due to 'personal reasons.' Manohar was at the helm when a new constitution and financial model that significantly reduced the BCCI's share of the ICC revenues was put to a vote at an ICC Board meeting in February 2017. Seven Full Members voted in favour of the new constitution and model; the Indian and Sri Lankan boards voted against it, while Zimbabwe's board abstained.
In a press conference following the meeting in Colombo, Papon expressed his opposition to some parts of the constitution that he, as the head of one of the boards that, voted in favour of. Part of the proposed changes to the existing constitutions was that Full Membership will no longer be guaranteed, with a clear path for Associates to be promoted in a two-tier system.
"There were constitutional and financial changes being discussed for reforms. We didn't oppose the financial reforms but there were parts of the constitutional changes that we had opposed. I was also a part of that committee. When these came up in the last meeting, there were things that didn't go with us. In the next meeting [in April], these will come up item-wise, and we will vote on them item-wise too. A lot of those present had told me to refuse the whole thing but I said that if Bangladesh is getting more money, why should I refuse that? I have to look at BCB's interest.
"Three days before we came here [to Colombo], we informed the ICC that we do not agree with two specific things. One of them is relegation; we said that we don't agree with a Full Member going down," said Papon. "The second is voting rights -- we said that we don't agree with it as it is 75/25 now. They are taking new independent directors, increasing the number of Associate members, weightage distribution is being changed. We have to understand this better, so we cannot approve this so quickly. We want to know Bangladesh's position in this regard."
Turning his attention back to the two-match Test series currently underway when asked whether coach Chandika Hathurusingha was behind the decision to drop Mahmudullah Riyad and send him back, Papon rubbished the notion and said that every decision was his.
He had said the previous day that he was unaware of Riyad being sent back home. He also revealed that it was Riyad himself who was given the option to go back and wanted to spend time with his family, a request that Papon said he denied on Tuesday.
Papon was stern when the question of emotions was raised with regards to a senior player being dropped.
"Anyone can be dropped from any match, and that player may feel sad, that is natural. But if it affects the team, then there is no question of that player continuing in Bangladesh cricket, let alone a series."