10 years of Shakib Al Hasan
The fire burns on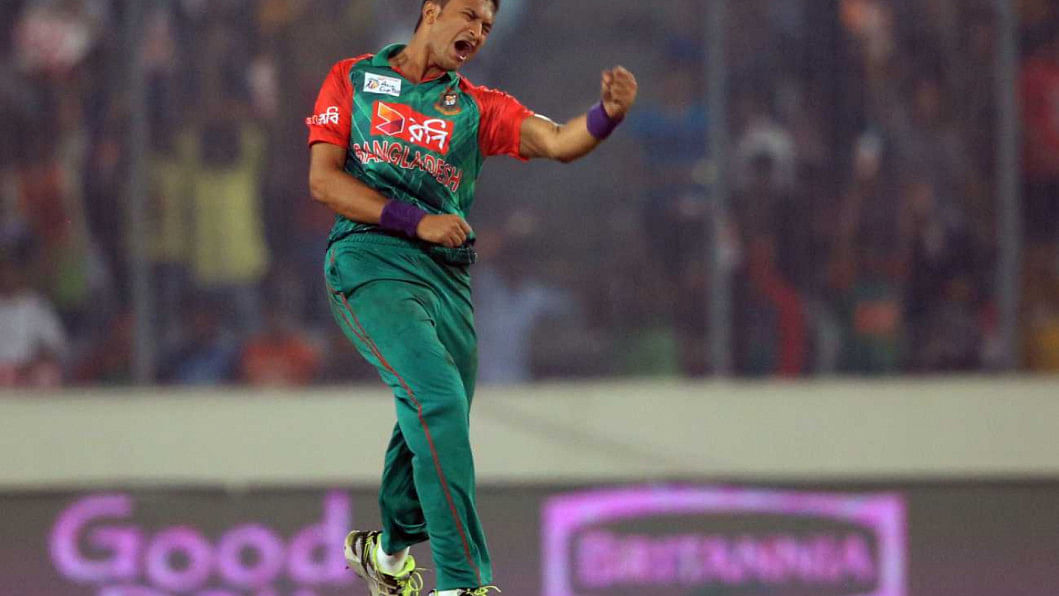 10 years ago today, a skinny teenager by the name of Shakib Al Hasan donned the red and green for Bangladesh and made his debut against Zimbabwe in Harare. He scored a brisk, unbeaten 30 and scalped a wicket. His batting technique was not the best and he did not produce any magical deliveries. Some even dubbed him as just another Bangladeshi slow left-armer.
10 years on and he is considered to be the greatest player Bangladesh has ever produced. Shakib has proved to be Bangladesh's go-to player across all formats. His career has seen many more highs than lows -- the only real example of the latter was his suspension in mid 2014 for disciplinary issues. True to form, he has emerged out of that low a calmer and more mature player. His high points, on the other hand, are too numerous to list here, so The Daily Star has picked five memorable ones:
92 NOT OUT V SL, JAN 2009 
Bangladesh went into this game knowing that they were almost out of the tri-series. They had unexpectedly lost to Zimbabwe and in order to save their blushes in front of thousands of fans, they needed to do something spectacular. Led by the aggressive Mahela Jayawardene, at a time when Muttiah Muralidaran and Ajanta Mendis were in good touch and also the fact that the Tigers had only beaten the Lions just once before that game, the task seemed quite improbable.
And so, when Bangladesh crumbled to 11 for three in four overs while chasing 148 in a game that was reduced to 31-overs a side, it seemed as though the inevitable would take place. But that's when a 21-year-old Shakib Al Hasan stepped up and mesmerised the world. In his typical nonchalant manner, he attacked the bowlers right from the word go. Thushara was driven for two consecutive fours. Kulasekera was punished in similar fashion in the next over and the tide continued.
It was like watching Mohammad Ashraful go berserk, as the player so often did during his early days. The only difference though, was that Shakib carried on till the very end with his unbeaten 92, an innings that saw 10 fours and two sixes, to take the Tigers to the final.
7 FOR 36 V NZ, OCT 2008
It's a Test that still makes Bangladesh's players cringe with pain. It was one of those rare moments in Bangladesh's Test history when they had almost beaten a top-ranked side in the longer version. And the opportunity was created thanks to a splendid all-round performance by Shakib Al Hasan.
After the hosts were bundled out for 245, Shakib produced his best ever bowling figures in Test cricket to bowl the Black Caps out for just 171 and provide the Tigers a rare first innings lead. There weren't any magical deliveries that day. But what was splendid was his accuracy and his patience.
The New Zealand batsmen didn't know how to play him. When they tried to defend those loopy turners, they ended up edging them to the close-in fielders. And when they decided leave them, the straighter ones either crashed onto their pads or into the stumps. Desperate to break his rhythm, most of the batsmen tried to hit out, but ended up providing easy catches to mid-on and mid-off. His contribution didn't just end there.
After getting the lead, Bangladesh crumbled to 71 for five in the second innings. Shakib came in at seven and played a resolute 71 off 151 deliveries and along with Mashrafe Bin Mortaza's hits set New Zealand a difficult target of 317.  Chasing a 300-plus target on a weary wicket was always going to be difficult. However, Shakib's counterpart, Daniel Vettori put in a fighting 213-ball 76 to take New Zealand over the line with three wickets remaining.
NEW ZEALAND SERIES, 2010
If there is one series that Shakib would want replay over and over again it would be this one. He excelled as a batsman, as a bowler and as a captain. This was the series that instilled in Bangladesh's players the belief that they were capable of dominating top-ranked sides.
While Bangladesh ended up thumping the Black Caps 4-0, the series didn't begin with a good omen. Mashrafe Bin Mortaza was sidelined with an injury after bowling just one over. The reins were handed over to Shakib. With attacking fields, he kept pestering the New Zealand batsmen with spinners, one after the other.
He himself was the biggest threat. In the first game he scored 58 off 51 balls and scalped four wickets. In the third, he rescued the hosts from a nervy 44 for three with a 106 off 113 balls. He then came back to scalp three wickets. His influence was perhaps the most evident during the final ODI. He had top-scored with 36, but Bangladesh were bowled out for just 174.
The hosts had already won the series, which in itself was a big achievement and Shakib could have let that match go. But not for a moment did he let his players settle down. Attacking fields were set and he brought Abdur Razzak on as early as the fifth over. The plan worked and New Zealand crumbled. It came down to New Zealand requiring eight off the last over with one wicket in hand.
A nervous Rubel bowled a waist-high full-toss first-up which was punched away for a four and the visitors needed just four more runs to win.  Right at that moment, a smiling Shakib went to Rubel and gestured for him to calm down. He spoke to him for a few minutes before the next delivery. What happened next was nothing less than incredible. Rubel fired in the perfect yorker and castled Kyle Mills.
144 V PAKISTAN, 2011
Pakistan arrived in Bangladesh for a two-Test series after the Tigers had succumbed to a 0-1 loss to West Indies -- a draw in Chittagong and a 229-run loss in Dhaka. The West Indies were hardly a formidable proposition in subcontinental conditions, so a humbling loss against them was seen as an omen for even greater reversals against subcontinental giants Pakistan.
Pakistan had a bowling unit tailor-made for the conditions – Umar Gul and Aizaz Cheema to exploit the hard surfaces of Dhaka and Chittagong to get the ball reversing around corners as the innings wore on, Saeed Ajmal to get the ball to bite and spit off the surface and Abdur Rehman to choke the batsmen with his accurate left-arm spin.
Chittagong was lost by an innings and 84 runs and in Dhaka Bangladesh were 43 for four after being asked to bat first. That is when Shakib came in. What followed was nearly six hours and 242 balls of the kind of assured batsmanship that Bangladesh has rarely seen in Test cricket. He first blunted Gul's pace and swing and then attacked it.
The man from Magura rose above anything Ajmal or Rehman could throw at him. First with Shahriar Nafees and then with Mushfiqur Rahim, Shakib showed that Bangladesh could resist the best not just through flair but with determination.
WINDIES WHITEWASH, 2009
The Bangladesh-West Indies series in the Caribbean in 2009 was one that was beset by controversy in the lead-up -- a second-string West Indies team would take the field because all the first-choice players were unavailable due to a contracts dispute with the WICB. Bangladesh had a new captain in Mashrafe Bin Mortaza, who took over from Mohammad Ashraful before the tour.
No one knew what to make of the series – West Indies were undoubtedly weak but did Bangladesh have the pedigree to take advantage? The picture was muddied further when Mashrafe went off the field due to injury on the third day of the first Test. Shakib, just three years old in international cricket, took over the reins for the day and eventually for the rest of the tour.
That was perhaps when the world got an unfettered glimpse of how special a cricketer Shakib is. On his first day in charge, he conjured the wicket of Omar Phillips in a manner that would do seasoned Test captains proud. Phillips was nearing his first Test hundred, and Shakib, realizing the pressure the batsman must be under, positioned a squarish, short cover. Sure enough, in his anxiety to pierce the field and get closer to his century, Phillips hit Rubel Hossain uppishly to that very position and lost his wicket.
With the first Test in the bag, Shakib was eager to keep his foot on the pedal. Requiring 215 runs to win the second Test, Shakib scored 96 not out after coming in at 67 for four. And he sealed it in style, hitting West Indies' breakout star from that series, Kemar Roach, for a towering straight six.