'Tamim and I are the messiest'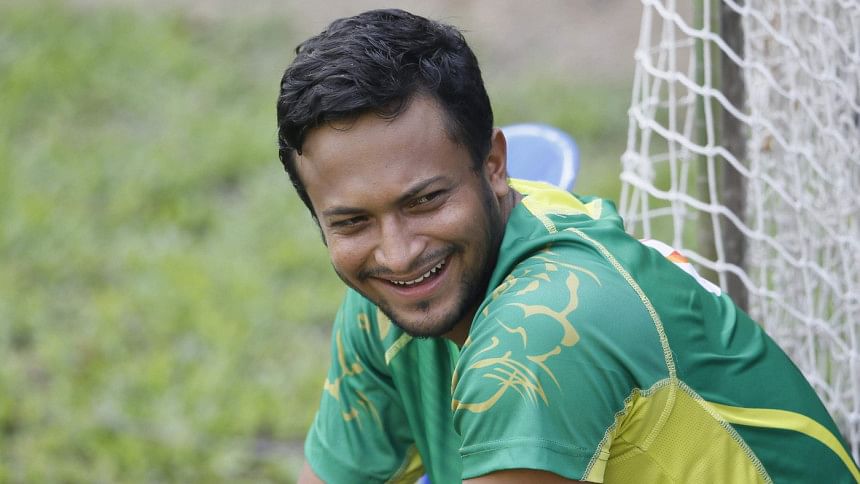 As he has been for the last seven years, Shakib Al Hasan is a fixture in the Kolkata Knight Riders set-up when the Indian Premier League rolls around every year. And being part of one of the more celebrated teams in the most popular T20 franchise tournament in the world, Bangladesh's newly-appointed T20I skipper draws attention from local Indian media as well. Yesterday, during practice, Indian cricket website Cricbuzz caught up with Shakib to do a light-hearted 'off the cuff' interview, and it revealed the lighter side of the usually guarded superstar.
EYES ON WC19
"Win the World Cup," was the simple answer from the top-ranked all-rounder when asked about his cricketing dream. During the recent Sri Lanka tour, former Sri Lanka captain Arjuna Ranatunga had said that Bangladesh have a good chance of winning the 2023 World Cup, but Shakib reiterated his opinion that they may not have to wait that long.
"Preparations are going on nice and I think we have a very good chance in the 2019 World Cup too. The way we are progressing, we will be a very competitive side in the upcoming WC too," he told Cricbuzz.
When asked whether he would choose a World Cup win over a Test series victory, he chose the World Cup. What if it was a series win against the number one Test side, and what if it was against the top-ranked team in their own backyard? 'World Cup' was the reply each time.
REGRETS AND TRIUMPHS
His cricketing regrets, meanwhile, are predictable, especially if you have been following Bangladesh cricket.
"Ahh! There are actually two," Shakib answered. "2012 Asia Cup final where we lost to Pakistan by two runs [Shakib was the player-of-the-tournament]. And the [2016] T20 World Cup game against India [in Bangalore, where Bangladesh lost after needing two to win off three balls]."
Despite choosing a World Cup win over a Test series victory against a top-ranked side, Shakib's best cricketing moments have come in Tests. "As a team, winning against England recently [in October 2016 in Dhaka]. Personally, the 200 I scored against New Zealand [at Wellington in January 2017]."
DRESSING ROOM INSIGHTS
Surprisingly, Shakib has named himself as the laziest, messiest and most vocal player in the Bangladesh set-up. "In KKR, there is hardly anyone [who can be called most vocal]. Maybe, Robin [Uthappa]. In the national team, it is me.
"In KKR, Kuldeep Yadav [is the laziest] (laughs). In Bangladesh, it's me."
He however shared the 'messiest' honour with national teammate Tamim Iqbal. "Here most of us are like that. In the national team, it is me and Tamim Iqbal."
He added that in the nets he loved batting against Bangladesh ODI skipper Mashrafe Bin Mortaza.
Half the El Clasico watchers late last night might be disappointed to know who Shakib is a 'fan-boy' of. When asked to give the name of one sportsperson he 'can't stop fan-boying about', the answer was Lionel Messi.