Soumya happy but not sated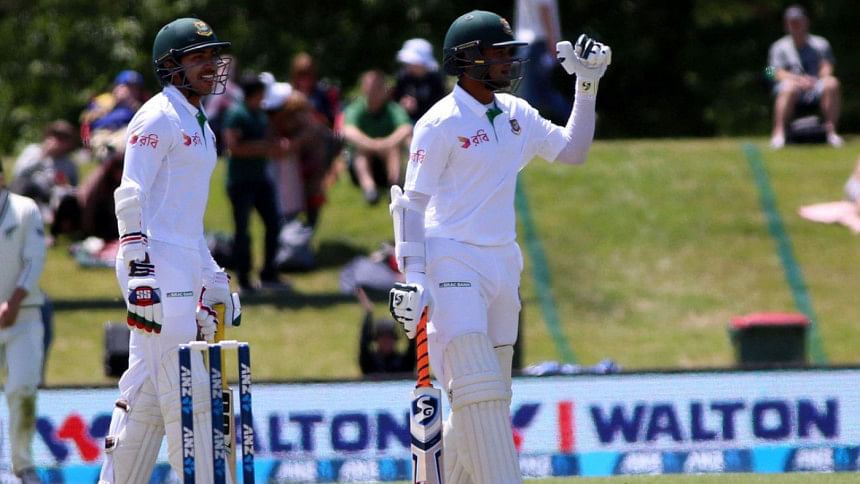 Injury to regular opener Imrul kayes gifted Soumya Sarker an opportunity to open a Test innings with Tamim Iqbal yesterday. The young left-hander grabbed it with both hands with a sublime 86 on the opening day of the second Test against New Zealand at the Hagley Oval.
Some may say it is a blessing in disguise for Bangladesh after so many injuries in the team going into the game. But the truth is that after Soumya's phenomenal rise as an opener in the shorter versions of the game there was never any doubt he would also excel as an opener in Test cricket. He was tried as a lower middle-order batsman in his four previous Tests but he was not much of a success in that position. Besides, he was going through bad times with the bat for at least a year and his place in the team became uncertain after a long lean spell. He gathered some momentum in the last two T20Is playing in his favourite position. So when he came out to bat with Tamim yesterday, it looked like something Bangladesh have long been waiting for.
His 86 with a strike-rate of nearly 90 is a hallmark of his seamless style of batting against any opposition and in any condition. He struck 11 boundaries, including an eye-pleasing on-drive with which he reached his maiden Test fifty. And had the left-hander stayed at the wicket for a longer period of time it could have been a fruitful day for Bangladesh.
He also made no secret of the fact that he enjoyed batting in his favourite position.
"I always feel comfortable as an opener. Since Imrul Bhai and Tamim Bhai have been very good in that place for a long time, I always waited for my chance to get an opportunity and prove myself. As I got an opportunity I wanted to seize the opportunity. [It was the] first time I got the chance to bat at the top in a Test match and I tried to give my 100 per cent. If I could have worked harder it could have been better for the team and also for me," said Soumya after the first day's play. 
"I desperately wanted to get some runs and I was trying to do that in whichever format I was playing. It feels good but I'm not satisfied. If I had been at the wicket for longer we could have had more runs on the scoreboard," added the left-hander. 
He said he was positive right from the start and played his natural game.
"I was not sure early on but once I got settled I got the confidence that I can play my shots and tried to play to the merit of the ball. The pitches here are very hard. In the morning it looked green. It was always difficult to play against the new ball. But if you can survive that early part it becomes easy to bat," observed the left-handed batsman.
 "I tried my best. Along with Shakib [Al Hasan] Bhai we tried to build the innings after two early wickets. But after my dismissal, we lost a few wickets and we went on the back-foot. If they had been there for some more time our score could have been better," lamented Soumya.
The otherwise shy speaker looked very animated when his attention was drawn to the whole-hearted effort from Kamrul Islam Rabbi deep down the lower order.
"On my way here I told Rabbi Bhai if there was a batsman with you he could have scored a hundred. He scored two runs but played 60-70 balls. The way he batted I thought his support could have been very important had there been a batsman at the other end."
He also lauded the performance of the two debutants -- wicketkeeper Nurul Hasan and young batsman Nazmul Hossain Shanto.
"[Nurul] Sohan and Shanto batted very well. It would have been easier for them if they had a senior batsman at the other end. I think they played really well," said the soft-spoken opener.