Shakib's take on a decade at the top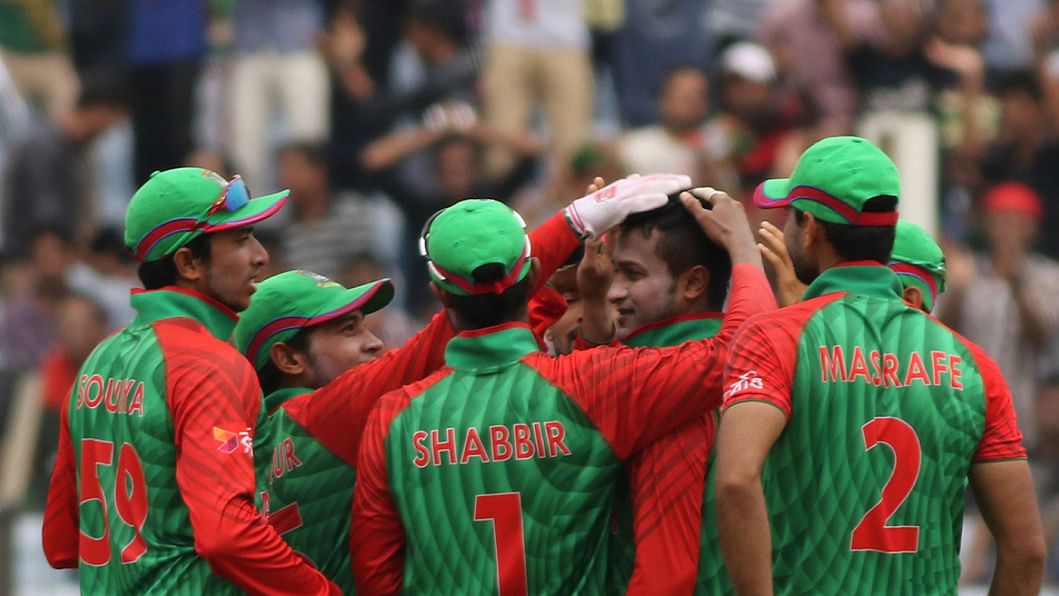 To celebrate Shakib's 10 years at the top, we are re-running a wide-ranging interview with him conducted just before he departed to take part in the Caribbean Premier League for Jamaica Tallawahs. In case you missed it the first time, have a look at the man behind the cricketer in this exclusive by The Daily Star's Naimul Karim. 
The Daily Star (TDS): In the last 10 years you have essentially gone on to become the country's first cricketing hero, surpassing so many boundaries. Did you ever think any of this was possible when you first started playing?  
Shakib Al Hasan (SAH): When I started, I never really thought that I would play for so long. That's one thing. But if I think about the current scenario with the amount of cricket that I have played and the amount that I understand, I feel that had I done a few more things properly I could have been in a much better position. I am a lot more capable.
For example, I probably could have scored 500 to 700 more one-day and Test runs and taken maybe 20 or 30 more wickets in Tests. Bowling in ODIs, I honestly didn't expect to get more than what I have now. I still might be able to cover it up before the end of my career.
If you look at Kumar Sangakkara, his average was around 32, 33. But he finished with a 40-plus average [in ODIs]. The number of centuries he scored towards the end of his career, he probably didn't score as many in the first phase. So it's possible. If I can achieve that then I will be happy. And honestly speaking, I don't regret things much in my life. What's gone is gone, I look to the future. 
TDS: That's one thought process that has helped you do well in your career, hasn't it? How did you learn to be so determined? 
SAH: It's something that has been present ever since I was a child. Even when I used to go for coaching or studying I used to try do better than everyone in my class.
Even when we used to play cricket at home, I used to try to win. I never thought about losing. The fact that you can actually lose a game never crossed my mind. It was always about winning. I think that thinking was always present. It only developed once I joined BKSP. There was a lot more competition there. But I told myself, so what? I still need to be the best here. 
TDS: But you never really had anyone to follow. Did you? 
SAH: I never followed anyone in particular, but I used to focus on particular attributes. If someone batted well, I tried to bat like him, if someone bowled well, I tried to learn that. For example, whatever English I can speak today is because of Star Movies. Someone once told me watch English movies, read English papers and you will learn English well.
That's what I did. When I used to watch cricket on television, I used to see that everyone spoke in English, and that's when I thought that I had to learn this language because I may have to give interviews one day. This thing crossed my mind when I played under-15 cricket in Magura. No one taught me English. This is how I learnt. 
TDS: Is there any other quality that you think helped you reach where you are now? 
SAH: The one thing that was very important was that I never really thought of becoming a cricketer or a player. I never thought of taking it up as a profession. I just used to feel good while playing. People at home got me admitted to BKSP not because they wanted me to become a player, but because they thought, okay he loves playing so much, why not let him study there at least.
He will get a good guideline and also get to play. Even when I had gone to play in the Under-19 World Cup [2006], I couldn't imagine that I would be playing for the national team one day or that this would be my career. 
In fact, even when I got a chance in the national team, I never thought that this would be my career.  I had just told myself, okay, I have got this chance; let's see what happens. I just kept playing, and that's how my first two years passed by. By the time I realised that I could do a lot in this game and that his could be my profession and that I could earn well from here, I think five years had passed by. And before that it was all about fun for me. I enjoyed every moment. 
TDS: Looking back, was there any moment that you recall that made you realise that you were meant to be in this game? 
SAH: I don't think there was any such moment in international cricket. But I remember an incident while playing under-15 cricket. They were supposed to name the under-17 team that day. I had just played one series in under-15 cricket and I was expecting to play a few more.
But that day my friend told me that my name was put in the under-17 list. And I was really shocked. And then I told myself 'okay, no problem, this is a new challenge'. Let's see how well they play. I played the first practice match and I did well. After that I was asked to sit out for the next game, observe everyone and tell them what their mistakes were (laughs).

Truth be told, the rate at which my career has grown… is just unbelievable. I never imagined I would rise so fast and come to such a good place.
It was like thash, thash, thash and suddenly I am in the national team. I held a cricket ball for the first time at the end of 2002 and I started playing.  
TDS: As a teenager, did you have any special motivation to do well? 
SAH: When I was admitted to the BKSP I saw that these under-13 cricketers used to go to Siliguri to play cricket. I used to see those photos and them playing with snow. That really amazed me and I wanted that. I was over 13, so I had made it a point to get into the under-15 team.
I had told myself that this was the path that would take me outside and see beautiful places. And that's when I worked really hard to get into the team. So it went like this… okay so where do we go? Kolkata? Oh, okay, I need to see the Eden Gardens and so I need to be in the team (laughs). That's actually how I got motivated. 
TDS: What are the performances that you recall the most in the last 10 years?
SAH: I think there are plenty. The game against Sri Lanka (92 not out, 14 Jan 2009) was really important. We had lost three wickets for just 25 runs. [Mohammad] Ashraful bhai and I played well. Naeem [Islam] bhai finished with a four and a six I recall. I also remember hitting [Nuwan] Kulasakera for a six which landed right here in the dressing room. And then there's the century against Pakistan in Multan [108, Apr 16, 2008].
That was special because we were 16 for four. I remember after reaching my half-century, I told Mashrafe [Bin Mortaza] bhai to stay at one end because I was planning to reach my century that day. That was my second after the hundred I scored against Canada. That was memorable. 
TDS: Do you think a lot about life outside cricket? 
SAH: No, not much actually. I mean everyone does think a little bit. But if I ponder about my life outside cricket for too long, I get tense and I find it troublesome and so I immediately forget the issue. I don't even think about the restaurant that I have. I don't know what's happening.
Initially in the first few days, I used to get messages of the daily profit and daily loss. After one or two months I told them, 'bhai, stop sending these messages'. I don't need to see this anymore. I had asked them to send me the report at the end of the month. Now I don't even want to hear about that (laughs). 
TDS: We have spoken about the good times. But there have been a few struggling moments for you as well, haven't there? The suspensions and the bans. You recovered quite smoothly from that situation. What did you learn from there? 
SAH: (Laughs) I think I can't explain that feeling in words. The things that I learnt from my bad times… it's hard to explain. I don't recall those moments. I prefer not to. That just increases my tension (laughs). I think that's a good attitude from one aspect, no? I mean I tend to let things go easily. I don't hold a grudge against anyone. If something happens, I know that it will be fine after a while.
But I have to say that I learnt a lot from that experience. Today I feel happy that I had fallen in that kind of a situation otherwise I wouldn't have been able to learn what I did. That's why I feel that it was a good thing. I saw it positively. Many would have taken it negatively and their careers would not have continued. But the way I recovered from that phase, I am really happy. I was really happy that I was able to change myself and get out of that zone.
It was something I initially didn't think I would be able to do. 
TDS: You, Tamim Iqbal, Mushfiqur Rahim are all around the decade-mark. Do you think the next few years could be Bangladesh's golden era? 
SAH: It may be the case because, if you see, all the teams are going through transitions or have just finished their transition at the moment. In our case, the transition happened a long time ago. And those present right now are established. We have seven to eight players who have played at least 70 to 80 ODIs each.
The five of us, Mashrafe bhai, Mushfiq bhai, Tamim, Riyad bhai have played 150 ODIs each. Even [AbdurRazzak] Raj bhai has played 150 ODIs. I think in world cricket, there are few players who have played 100 ODIs at the moment.
Every team may have three to four players but they won't have as many as seven to eight. So that's an advantage for us. 
TDS: With six or seven more years to go, is there any particular place you want see your self at by the end of your career?
SAH: I think if I set a target, it's going to get difficult. Alhamdullilah, what's happening now is going well. I will try to make it better. I will feel really good if I see that my team is in a good place before I finish. We had a good year in 2015. If we can continue this for the next few years and we are in good form, with the 2019 World Cup, I feel we have a good opportunity. 
TDS: And maybe you see yourself as a captain as well. It's something that you enjoy right? 
SAH: No… it would be wrong to say that I enjoy captaincy. If someone hands it over to me, then that's because in that particular moment I am the best possible person to lead the team and I will try my best. But it's not as though I want this. If I get it it's fine, but I don't care. Honestly speaking I don't even think about it. 
TDS: How different is life now with your child and your family? 
SAH:  I don't think my life has changed that much. I am just a little bit busier. What I miss doing is spending more time with my family. That is something I have not been able to do in the last few months and I regret that. Apart from that I don't have anything else that I regret about.
That's because I love playing and I can never leave that. If I play less and give my family more time, I don't think I'll enjoy that either. What I have to do is play the same number of games and find a way to spend more time with my family. 

I am sure I can do that. There will be some periods in a player's life when you are busy. After the CPL I will be able to spend plenty of time with my family in Bangladesh. 
TDS: Is your family traveling along with you to see the CPL? 
SAH: No. Not this time because my daughter is still not a year old. We will start traveling after she turns one. My wife is very cautious about my child's health. I think that's partly because she grew up in America and she wants everything to be perfect (laughs). She does not want to take any risk. So, you know, there are lots of issues. 
TDS: Lastly, do you have anything else to say regarding your ten-year experience? What has been the ultimate learning? 
SAH: We learn everyday. There have been many ups and downs in the last ten years. People learn a lot when they struggle, but I feel I learnt a lot in my good times as well. I think the amount of love from the fans that I have received here, this would not have been possible to get in other countries. It's a big privilege for everyone and me in the national team.
I am also really happy about our batch. We are contributing well to the national team. When I started playing cricket, everyone used to ask us where we wanted to see Bangladesh in the next six to seven years and we used to say that we want to see us in the top five. Now we are ranked seven.
If we do well in the next two series' we may reach five. Back then we used to say these things just because we had to. Reality was different. But I think the fact that we could say these things was quite gutsy.