Shakib remains top allrounder in ICC ranking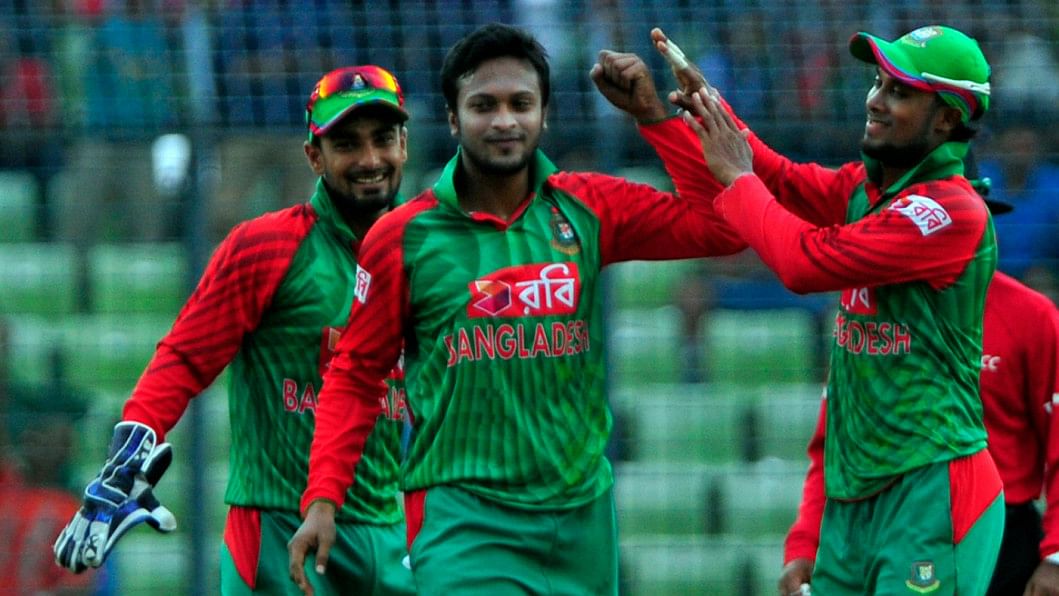 Bangladesh cricket team's ace allrounder Shakib Al Hasan retained his top spot in the ICC's ranking while England's batsman Joe Root became the no.1 ranked Test batsman.
Pakistan's wrist spinner Yasir Shah became the second highest-ranked bowler in the world for the first time in his career in the latest ICC Test Player Rankings.
The rankings were released on Tuesday morning in ICC's media release following the conclusion of the Colombo and Dubai Tests.
Yasir picked up eight for 180 in Pakistan's 178 runs victory, which has earned him 25 points.
This has, in turn, enabled him to leapfrog the pace trio of England's James Anderson and Stuart Broad, and New Zealand's Trent Boult.
Root scored 88 and 71 in the Dubai Test, which has helped him reclaim the top spot from Australia captain Steven Smith.
Root, who entered the Test trailing Smith by 13 points, now leads the Australian by just three points.
This means the Yorkshire batsman will have to perform strongly in the third Test, starting in Sharjah from Sunday, to retain the position he first achieved following the Trent Bridge Test against Australia in August.
Younus Khan, Pakistan captain Misbah-ul-Haq and Asad Shafiq have also reaped the rewards of good performances in the Dubai Test, which went down to the wire.
In the ICC Test Team Rankings, there is no change to Sri Lanka and West Indies' rankings as they continue to hold seventh and eighth positions, respectively.
ICC Test Team Rankings (as on October 27, after the conclusion of Sri Lanka-West Indies Test series)
Rank Team Points
1 South Africa 125
2 Australia 106
3 England 102
4 Pakistan 101
5 India 100
6 New Zealand 99
7 Sri Lanka 93
8 West Indies 76
9 Bangladesh 47
10 Zimbabwe 05
ICC TEST PLAYER RANKINGS (as on 27 October, after Dubai and Colombo Tests)
Batsmen
Rank (+/-) Player Team Points Avge HS Ranking
1 (+1) Joe Root Eng 913 56.79 917 v Aus at Trent Bridge 2015
2 (-1) Steven Smith Aus 910 56.27 936 v Eng at Lord's 2015
3 ( - ) AB de Villiers SA 890 52.09 935 v Aus at Port Elizabeth 2014
4 ( - ) Hashim Amla SA 881 52.48 907 v Pak at Abu Dhabi 2013
5 (+1) Younus Khan Pak 854 54.31 880 v SL at Lahore 2009
6 (-1) Angelo Mathews SL 851 51.43 877 v NZ at Christchurch 2014
7 ( - ) Kane Williamson NZ 813 45.70 860 v Eng at Lord's 2015
8 ( - ) Alastair Cook Eng 783 47.39 874 v Ind at Kolkata 2012
9 ( - ) David Warner Aus 775 46.78 880 v Ind at Adelaide 2014
10 ( - ) Chris Rogers Aus 761 42.87 793 v Eng at Lord's 2015
Bowlers
Rank (+/-) Player Team Points Avge HS Ranking
1 ( - ) Dale Steyn SA 905 22.48 909 v WI at Centurion 2014
2 (+3) Yasir Shah Pak 827*! 24.55 827 v Eng at Dubai 2015
3 ( - ) James Anderson Eng 824 29.20 847 v WI at Barbados 2015
4 (-2) Stuart Broad Eng 817 29.40 852 v Aus at Trent Bridge 2015
5 (-1) Trent Boult NZ 814 27.12 825 v Eng at Lord's 2015
6 ( - ) M. Johnson Aus 773 27.94 849 v Pak at Dubai 2014
7 ( - ) V. Philander SA 770 22.13 912 v Ind at Johannesburg 2013
8 ( - ) R. Ashwin Ind 760 28.44 808 v WI at Mumbai 2013
9 ( - ) Rangana Herath SL 751 29.49 851 v Pak at Colombo (SSC) 2014
10 ( - ) Tim Southee NZ 713 31.63 799 v WI at Jamaica 2014
All-rounders
Rank (+/-) Player Team Points HS Ranking
1 ( - ) Shakib Al Hasan Ban 384 419 v Zim at Khulna 2014
2 ( - ) R. Ashwin Ind 347 419 v WI at Mumbai 2013
3 ( - ) Vernon Philander SA 337*/ 376 v Aus at Cape Town 2014
4 ( - ) Stuart Broad Eng 301 382 v Pak at Abu Dhabi 2012
5 ( - ) Mitchell Johnson Aus 263 384 v Eng at Cardiff 2009