SA beat India by 5 runs in 1st ODI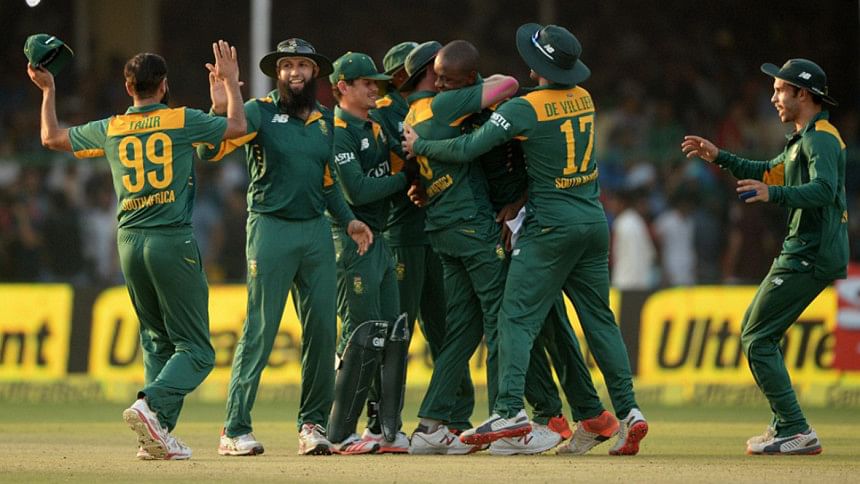 The Green Park ground in Kanpur saw its two highest ODI totals scored on the same day in a match that seemed to be a mirror image of itself until India cracked. Kagiso Rabada defended 11 off the last over, in which he dismissed India captain, MS Dhoni, and derailed an Indian chase that was on track until the start of the 47th over.
Then, Rohit Sharma, who had racked up 150 - the third-highest score of his ODI career - was sapped of energy and handed a return catch to Imran Tahir. The South Africa legspinner had not had much of an impact on the innings until that point but went on to dismiss Suresh Raina in the same over to change India's task from a relatively straightforward 35 runs off 24 balls with seven wickets in hand to a more challenging 31 runs from 18 balls with five wickets in hand.
Rabada's penultimate over cost nine runs and Steyn's final over 11, to leave the 20-year-old fast bowler with only 11 to defend at the end. Far from being overwhelmed by the occasion or the opposition, Rabada kept his cool, banged in the short ball and watched both Dhoni and Stuart Bunny mistime their pull shots. Rabada completed the catch to dismiss Dhoni, and ensure South Africa found a bowling hero after AB de Villiers had headlined their effort with the bat.
De Villiers played a perfectly paced innings to score his 21st ODI century and guide South Africa to the highest ever total, and the only one over 300, at the Green Park in Kanpur. De Villiers had a solid start to build on, thanks to Hashim Amla and Faf du Plessis, and worked his way through a quiet middle period before attacking with Farhaan Behardien at the end. South Africa plundered 109 runs off the last ten overs, which included 65 off the final five, capitalising on India's weakened attack that lost R Ashwin to a side strain.
On a slow surface, India's bowling tactics were pulled out of shape by Ashwin's niggle, which meant that he bowled less than half his quota of ten overs after Dhoni held him back. Ashwin bowled one over in the Powerplay and was kept for later in the innings while Dhoni rotated his other slower bowlers. After he was brought back into the attack, Ashwin bowled 3.4 overs before he picked up the niggle and could only deliver one more over later on. As a result, India's fifth-bowler duties were shared between Suresh Raina and Stuart Binny, who conceded 100 runs. In comparison, South Africa's fifth-bowler options - Farhaan Behardien and JP Duminy - gave away only 74. In a match where margins were tight, numbers like that made the difference.
India were in the thick of things when they were asked to bowl in conditions that offered something for the seamers in the first hour. Bhuvneshwar Kumar found some early movement to test Quinton de Kock outside the off stump, a stern examination of the returning opening batsman's confidence.
De Kock was dropped during the Bangladesh series partly because of his lapses outside off stump and he showed greater awareness here, especially in his footwork. He may not have been happy with the eventual outcome of his innings though, after he was dismissed by Ashwin for 29 through a perfect off break that drew him forward and took the edge.
Ashwin was taken out of the attack despite his early success as Dhoni turned to Amit Mishra, Stuart Binny and later Suresh Raina. The trio were largely disciplined but their occasional lapses allowed Amla and du Plessis to build slowly with a focus on strike-rotation and patience. Their partnership had reached 59, and Amla had already crossed the 1000-run mark in ODIs in this calendar year when he was beaten by a faster ball from Mishra that deflected off his pad and onto the stumps.
That brought de Villiers to the crease but the expected fireworks came from du Plessis at first. He was on 33 when Amla was dismissed and raced to his half-century off 11 balls after that, reaching it with the first six of the innings off Raina.
With the milestone over, things quieted down and Dhoni brought Ashwin back. Two balls into the third over of his second spell, Ashwin fielded a ball off his own bowling and two balls and then left the field with a side strain. Virat Kohli completed the over and Dhoni was left with a conundrum as he sought to make up Ashwin's overs.
Binny had to bowl more than expected, and de Villiers and Duminy targeted him. They took 21 runs off the 45th over to signal their intent to finish strongly. Behardien then provided the perfect foil for de Villiers, attacking and absorbing the pressure, which was transferred to the Indian seamers.
Both Yadav and Bhuvneshwar lost their lengths, and missed the yorker and de Villiers sent the resultant full tosses into the stands. His strike rate of 60.00 off the first 30 balls jumped to 134.00 by the time he had faced 70. With two balls left in the innings, de Villiers reached his century with a six that proved the difference in the end.
That shot could have been fairly far from de Villiers' mind when Rohit was controlling proceedings. His opening stand of 42 with Shikhar Dhawan set India up in the same way de Kock and Amla did for South Africa and what followed threatened to take the game India's way.
Rohit and Ajinkya Rahane put on 149 for the second wicket. They batted confidently, targeted Duminy and Behardien, and punished lapses in length from South Africa. Both batsmen were strong on the on-side and down the ground, and complemented each other well. Rahane was watchful - his 50 came off 67 balls - while Rohit was more attacking, getting to his 50 off 48 deliveries. Rahane looked as likely as Rohit to bat through the innings but gave it away when he slapped a Behardien medium-pace to Miller at extra cover.