The rookie Bangladesh pace attack could not have asked for a better time to express its potential. They bowled knowing that they had a vast store of runs to defend and the first impression was not that bad considering the nature of the wicket and the alien conditions which they faced for the first time.
Of the three pacers, Kamrul Islam Rabbi was most impressive. Not only did he claim two wickets, he also showed his skill of bringing the ball in quite sharply and surprising the batsman with the odd bouncer. He seemed to have understood the value of bowling with the wind.
Taskin Ahmed also bowled well in patches on debut. He bowled with pace but lacked the discipline needed in Tests. Besides, most of the bouncers he bowled were wasted deliveries and a few of them flew over for four.
The most interesting of the trio was the other debutant pacer, Subhashis Roy. Perhaps the oldest Bangladesh pacer, at 28, to make his debut, the right-arm medium pacer was accurate with his line and length and the most economical of the three pacers. He bowled 16 overs and conceded 46 runs at less than three runs an over.
However, his biggest problem was his landing, which was a bit peculiar. He dragged his right foot in his delivery stride which is acceptable, but during the follow-through his right foot awkwardly landed on the danger area. He had done it repeatedly while bowling over the wicket and received an official warning from the on-field umpire.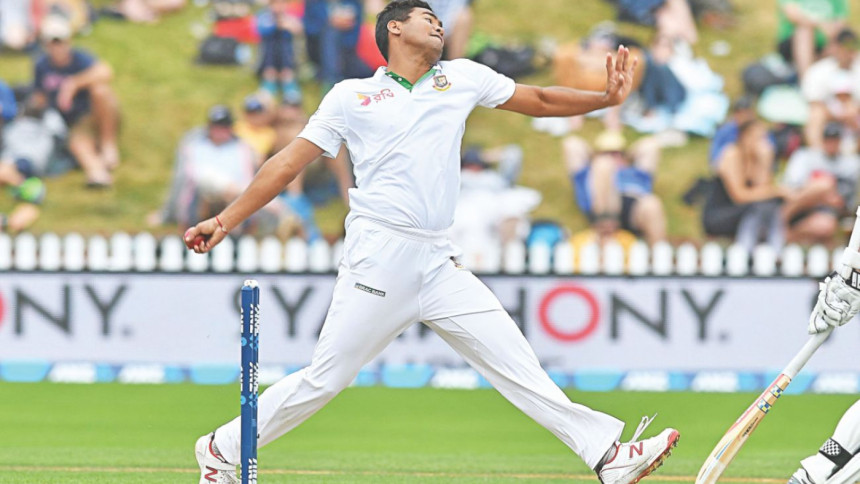 This is something he had obviously not done to do a favour for his fellow spinners. It looked like he had been bowling with this peculiar landing for a long time and nobody had noticed it. If that is the case then there is a flaw in the system which he has come through. He eventually bowled his last spell round the wicket and understandably had no issues with regards to landing on the danger zone.
Of the two spinners, Shakib Al Hasan did not bowl that much, but young off-spinner Mehedi Hasan bowled a lot of overs. The challenge was for him to bowl against the wind and on a wicket where there was little purchase for spinners. He created a couple of chances, but more refreshingly he stuck to what he knows best -- maintaining a tight line and length.
"I have never bowled against this kind of wind in my life. It was a new experience for me. But I'm happy that I was able to bowl in the right areas most of the time," Mehedi told this reporter after the day's play.