What happened to Shakib?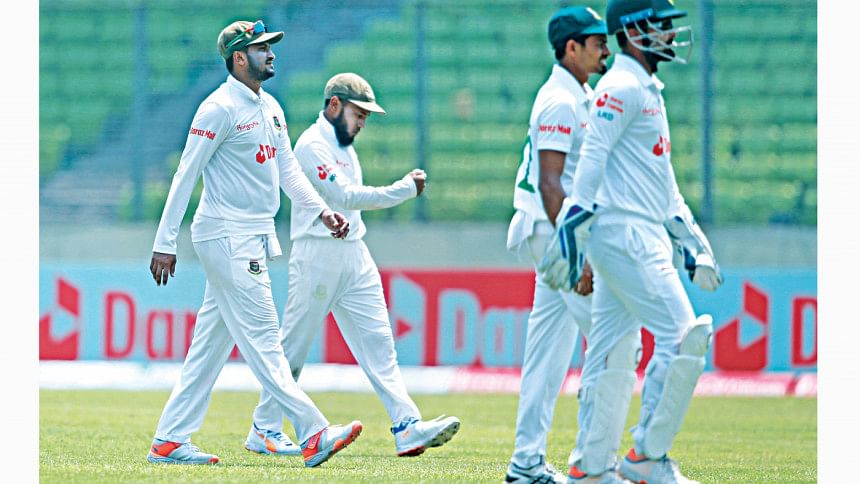 "It has been the greatest day in Ireland's Test history," international commentator Andrew Leonard told this reporter when talking about what transpired on the third day of the one-off Test, which saw Ireland take a 131-run lead against hosts Bangladesh.
While the Irish commentator was ecstatic, his companion, South African Deon Ackerman, was pondering a more menacing query of his own related to Bangladesh skipper Shakib Al Hasan. "What happened to Shakib? Is he injured?" he inquired.
When told no injury concerns had been reported, he seemed a bit perplexed. Shakib had bowled just three overs in Ireland's first innings, so that question was very much the proverbial elephant in the room.
Taijul Islam had bagged five wickets in the first innings and it had been apparent that spin held sway on the second day. But given that Bangladesh had five specialist bowlers in the line-up excluding Shakib, the argument that could be developed was that the skipper was gauging the strength of the rest of the bowlers.
Shakib took the ball from the very beginning on the second day during Ireland's second innings and bowled seven overs, inciting a top-order collapse as he produced two wickets with the new ball and Ireland slumped to 13 for four before reaching 27 for four at the close of play.
I think a massive tick today was the resilience that Ireland showed. We knew that coming to the ground today wasn't gonna be a walk in the park. We would not have disrespected whatever Ireland would throw at us
The wicket is playing well. It will break up a little bit more. We know we can take wickets to win the game tomorrow [Friday]. We hope to give Bangladesh a real target to chase. We think all the pressure is on them.
Coming into the third day, Shakib bowled three more overs on the trot. That turned out to be his biggest spell in the second innings, with the visitors managing to play out 107 overs with a majority of their batters getting starts. Taijul bowled 38 of those and the pace trio managed 27.
Lorcan Tucker struck a hundred during two big partnerships and, through it all, Shakib managed just three more overs on after his initial three-over spell coming into the attack in the 16th over. He bowled three more overs, each in one-over spells during the 47th, 83rd and then 90th over of the innings.
In 13 overs, he had two wickets for 26 runs, still the most economical.
Tucker seemed pretty happy with proceedings. "He [Shakib] bowled beautifully last night. I can't say I am disappointed that he didn't bowl so much today," he said.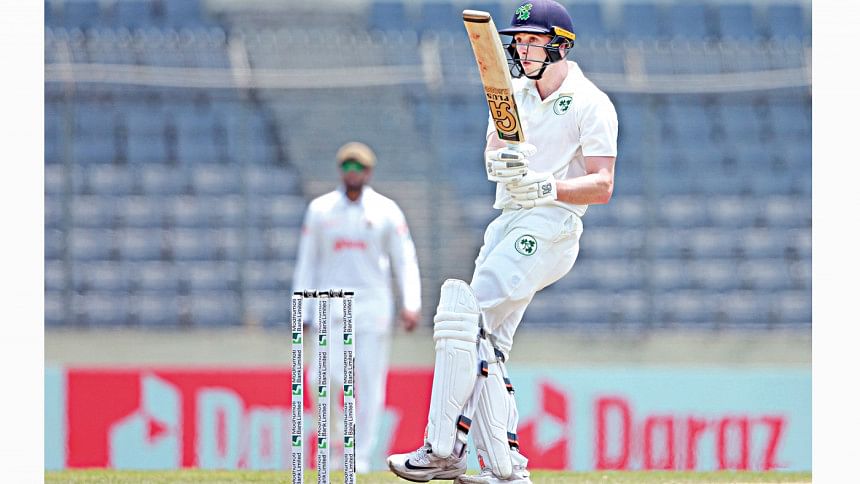 "I really don't know why he hasn't bowled enough today," pace bowling coach Allan Donald said at the press conference yesterday.
Donald felt that Shakib could have done what he does best. "Although there was no real turn all day long, I thought he would've been the guy that would control one end and really shut one end down," Donald said.
Apparently no one is sure about the stone in Shakib's shoes at the moment. "I'll leave that question you asked to Shakib," Donald said as Bangladesh now look to finish off Irish innings and notch a win without any undesirable collapse.
HIGHLIGHTS
Ireland's Lorcan Tucker became only the 9th player in Test history to score a hundred on debut while batting at number 7.
Ireland's fightback from 13-4 to 286-8 is the best recovery in Test cricket after a team lost first four wickets for 15 or less. Ireland added 273 runs after losing their first four wickets which saw them break the 31-year-old record of Australia when the Aussies had added 262 runs after losing first four wickets for just nine runs in a Test against Sri Lanka in Moratuwa.
SCORES IN BRIEF 
Bangladesh vs Ireland
Only Test, Day 3
Ireland: First innings-214 and second innings-286 for 8 in 107 overs (Tector 56, Moor 16, Tucker 108, McBrine 71 not out, Adair 13, Hume 9 not out; Shakib 2-26, Taijul 4-86, Ebadot 1-36, Shoriful 1-35)
Bangladesh: First innings-369 all out.