Walton renews contract with Bangladesh all-rounder Miraz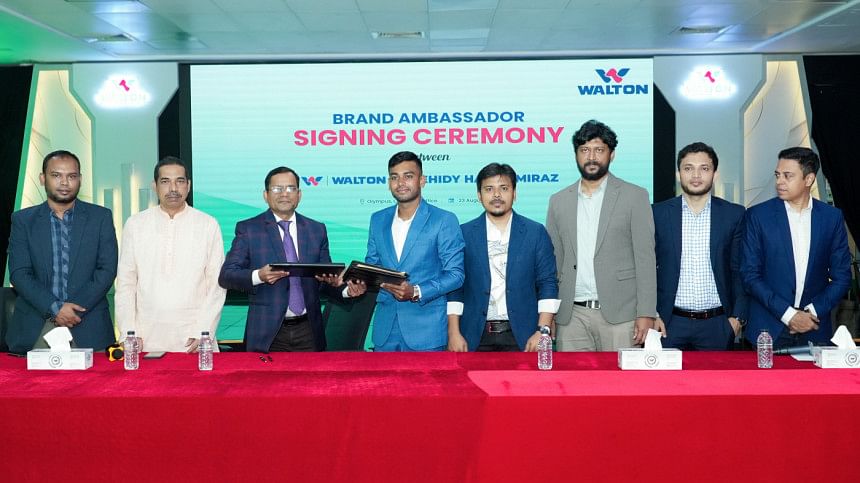 Local electronic giant Walton has renewed their contract with Bangladesh national cricket team all-rounder Mehedi Hasan Miraz for a third successive time. 
 
The 25-year-old will continue to assume his role as the company's Brand Ambassador for the next two years.
 
In 2015, Miraz became Walton's 'Youth Ambassador' for two years while he was the captain of the Bangladesh U-19 cricket team.
 
Walton Hi-Tech Industries PLC's Deputy Managing Director Nazrul Islam Sarker inked the deal with Miraz at Walton's Corporate Office in the capital.  
 
The agreement signing ceremony was attended, among others, by Walton Hi-Tech's Senior Executive Directors SM Zahid Hasan, Md. Shahjalal Hossain Limon, Md. Mahmudul Islam and Didarul Alam Khan (Chief Marketing Officer), Senior Deputy Executive Director Rabiul Islam Milton and Power Play Communication's Managing Director Niamur Rahman Palash. 
 
Welcoming cricketer Miraz, Nazrul Islam Sarker said, "Walton has always been sponsoring cricket and other sports of the country. The national cricket team is branding Bangladesh around the world. Similarly, Walton is also branding Bangladesh in the global tech product sector. Miraz is a very talented and one of the top all-rounders of Bangladesh cricket team. We are delighted to have a talented all-rounder like him as Walton's brand ambassador for a third time."
 
"Walton has always come ahead in sponsoring cricket. They are not only sponsoring all kinds of games, but also patronising the players. Walton made me a youth ambassador when I wasn't known much while playing in the Under-19 team. After that, Walton appointed me as its brand ambassador for the third successive time. It is a great honour for me. I am proud to be a member of the Walton family. I will try my best to represent Walton positively at home and abroad, and brighten the brand image of the company," Miraz said at the event.