Tigers focus to flip fortunes at home
Shakib Al Hasan and a few others raised a hand in the air directed towards the sky during the practice session yesterday, pointing out the rain clouds but by then the cloud of Shakib's unavailability had left the side.
Bangladesh team had been waiting on the wings for a decision on Shakib's availability for the first Test today in Chattogram. Earlier, the all-rounder was ruled out of the first Test after returning home from the USA, having tested positive for Covid-19. Under dramatic circumstances, Shakib twice underwent tests on his own accord on Thursday and returned negative for the virus before he underwent another test at a BCB-affiliated facility on Friday to get another negative test before joining the side on Friday night.
Shakib took part in yesterday's optional practice session for the Tigers and batted at the nets for a while. He looked a little jittery and perhaps opted for a few big shots to get himself going after returning to cricket for the first time since appearing in the recently-concluded Dhaka Premier League for Legends of Rupganj. He took on the spinners, went for a few uppish drives over mid-off and although rain had interrupted proceedings, Shakib might have felt he had enough of an outing with the bat to get ready for the first Test. Later at a press conference, captain Mominul Haque confirmed that Shakib will be playing.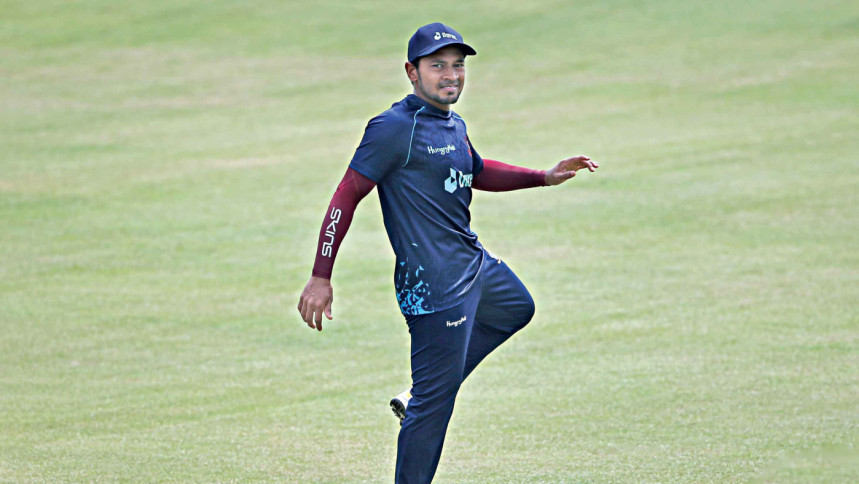 Mominul will be looking to turn the tides of their recent record at home, having lost all of the previous three Tests in Chattogram. The bitter defeat against Afghanistan in 2019 was followed by the embarrassment against West Indies in 2020 before they capitulated to Pakistan's Hasan Ali and Shaheen Shah Afridi in the last Test played here in 2021.
The past four years' home record is dismal and gives an idea of Bangladesh's struggles of taking advantage of home conditions. During this period, Bangladesh's home record in 12 matches stands at four wins, seven losses and a draw. Two wins apiece came against Zimbabwe and the West Indies while the defeats came against Sri Lanka, Zimbabwe, Pakistan and West Indies. Spin or pace, the Tigers' batters have been unable to apply themselves over Tests in both innings.
Asked if they are looking to change the curve, Mominul said: "Of course, we play to win and we have the same plan. We aren't thinking of what happened before."
The wicket will be in focus but there are suggestions that it will be pretty flat. Mominul agreed that the demands from the bowlers will be more than usual but could not ignore the recent batting debacles.
He urged that his side wanted to dominate proceedings. "We are focusing on how we will play over five days and dominate. Instead of thinking of all five days, we will take it one day at a time.
"Batters want to overcome in every series and we are working on these things. We're not thinking of what happened in the previous series. The conditions are very different and what's important is how we can adapt here. What's important is how we can use the lessons from the previous series," the skipper said.
Shakib's inclusion will open up the option of five bowlers in the line-up. "Shakib bhai is mentally very strong. You can understand someone's fitness by watching their batting. I think he is a hundred per cent fit. We will decide whether we go with four or five bowlers after inspecting the pitch tomorrow morning. Shakib bhai's presence always gives us comfort in regards to team combination. We will decide tomorrow whether we pick three or two pacers."
In an attempt to change fortunes at home, Mominul and Co will have to dig deep but that Test aggression Mominul had talked about will also have to flow tactically.