Taskin included for WI T20Is; delighted to be bowling again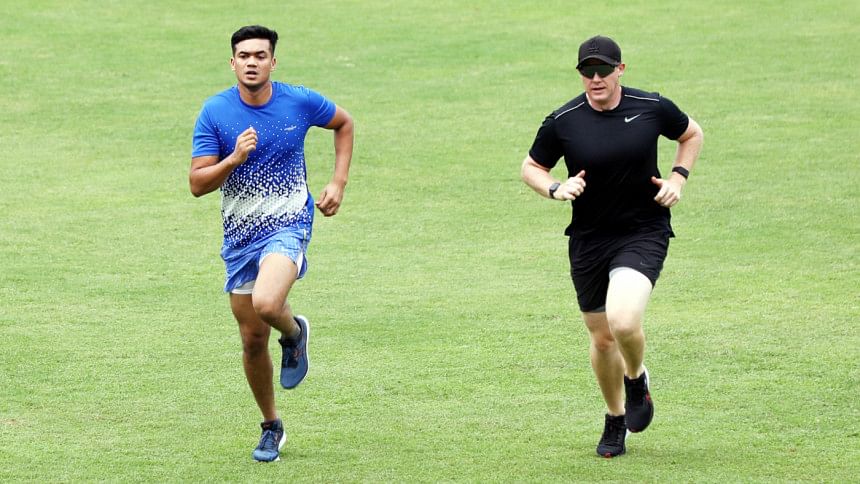 Paceman Taskin Ahmed has undergone a very positive transformation over the course of the last two years. Since missing out on the ODI World Cup in England, Taskin has slowly but surely become the mainstay of Bangladesh's pace unit.
It was disappointing for Taskin to miss the second Test in South Africa due to injury, which also forced him out of the two-Test series against Sri Lanka at home. He was subsequently ruled out of the Tests against West Indies as well but he is participating in steady rehabilitation in order to prepare for the shorter formats for the tour of the West Indies. 
Even though he is still recovering from the back injury, the team management is hopeful that he will be fit to play the shorter formats. Taskin was initially kept in just the ODI format but the selectors have now included him in the T20I side for the West Indies tour.
Taskin went through the gears at Sher-e-Bangla National Stadium today along with Shoriful Islam. Both are making steady recoveries. Taskin later informed that he is feeling much better now after starting to bowl.
"I am bowling six-over spells one day and then eight-over spells the next day. That's the pattern I am following day in and day out. Seriously, it feels like Eid when you can bowl again," a delighted Taskin told The Daily Star today.
Subject to fitness, Taskin may even play the T20Is.
"He has been included [in the T20I squad for the West Indies tour]. He will be played according to the physio's advice," BCB chief selector Minhajul Abedin told members of the media today.
For Taskin, going through the bowling grind is what matters now. A positive mindset like his will go a long way into finding that form he showcased in South Africa before sustaining the shoulder injury.
Bangladesh are scheduled to play two Tests, three ODIs and three T20Is in their upcoming multi-format tour of the West Indies, set to begin on June 16 with the Test series.