Reminiscence: My first match
In these times of social distancing, we must be safe while remembering that we do not get too used to the world being at a standstill. We were meant to go watch matches together, agree with a few of our neighbours and disagree with the rest. So, we are taking turns at The Daily Star Sport talking about what our first live experience at a sports venue was. Sakeb Subhan from London, 1996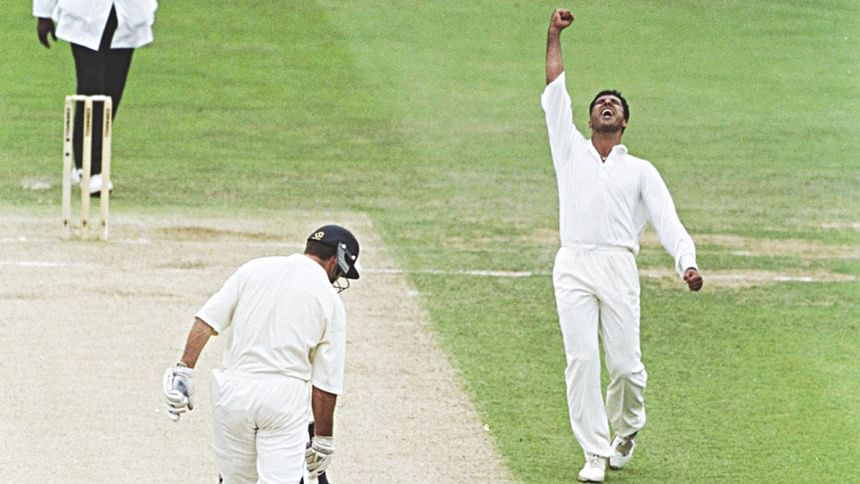 The cricket bug (intended) bit me hard around the winter of 1995, when Sri Lanka, West Indies and Australia were locked in battle in the tri-series down under and I was holed up at my grandparents' with fever, glued to the television.
The 1996 World Cup soon followed and I was hooked. That summer, we were lucky enough to go to England on my father's furlough, and at the back of my mind, I knew that I would be in the same country where the likes of Wasim Akram, Waqar Younis, Saeed Anwar and Inzamamul Haque would be engaged in a Test series.
In my early teen mind, I was just cherishing the opportunity to watch it on television in the same country. But my father, who viewed my cricket mania with a kind of amused annoyance, had the best surprise in store for me.
On July 29, he told me that he had bought tickets for the fifth day of the first Test. I cannot adequately describe my glee -- just picture scenes of children running around the dinner table and shouting at the top of their voices.
Lord's did not have the futuristic looking media centre then, and was steeped in tradition. Reverence is the only word to describe the feeling when entering the ground. I do not quite remember the name of the stand we sat in, but the view was that of square leg or deep cover.
England, who had reached 152 for one at lunch, certainly seemed to be responding well to the target of 408 set by Akram. Skipper Michael Atherton had been leading the way with 64. Alec Stewart hit 89. The pitch, Cricinfo tells me, was slow. The sound of ball hitting bat was clear as the tradition-obsessed crowd quietened down as the bowler ran up.
England had reached tea with three wickets down, and it seemed a draw was looming. But after the break, came Waqar, who had earlier dismissed opener Nick Knight. Running in furiously, and bowling lightning fast, he made short work of England's batsmen. Graeme Hick was first to go, and Jack Russell -- the only one not to be bowled among Waqar's three victims after tea -- and Dominic Cork followed. England lost their last nine wickets for 76 runs, with leg-spinner Mushtaq Ahmed also taking five.
But in my mind's eye, it was the sight of Waqar putting the fear of God into Englishmen that still lingers, and probably a big part of why I am in this job.