Pujara 'shuts out noise' to reach Test milestone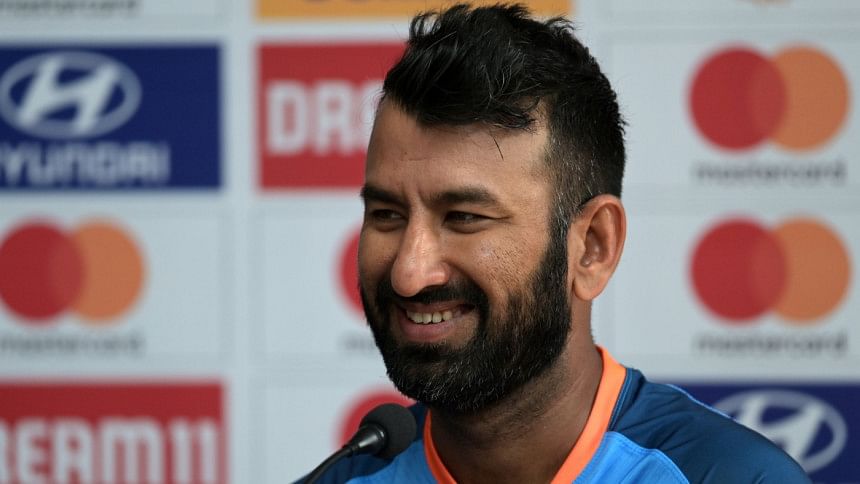 Indian batsman Cheteshwar Pujara said Thursday that "shutting out the noise" through yoga and meditation was his secret to having made it to his milestone 100th Test.
The 35-year-old will be the 13th Indian cricketer to play a century of Tests when he takes to the field against Australia in New Delhi.
"When I made my debut I never thought about playing 100 Test matches and it's always about the present," Pujara told reporters on the eve of the Test.
"Hundred Tests is something that happens in a journey and something you can't predict, but once you continue playing good cricket, it happens."
Pujara is a rare five-day specialist in the age of Twenty20 and white-ball performers, opting out of the lucrative Indian Premier League auctions last year to play the English County Championship.
India hammered Australia in the series opener at Nagpur by an innings inside three days, although Pujara made only seven runs before falling to off-spin debutant Todd Murphy.
But the batsman has enjoyed remarkable longevity since his 2010 debut against Australia at home, averaging over 44 and making 19 centuries.
Pujara attributed his staying power to discipline, especially because his single-format strengths leave long interludes between matches.
"I have certain routines, fitness, little bit of meditation, yoga and pranayama (a breathing technique) because it is necessary to shut the outside noise, even it if is positive.
"We play nine Tests on an average and when you go back home, unless you have domestic cricket, you are not in touch with the game. Keep challenging yourself, keep training, looking forward."
- 'Not someone who talks back' -
Despite only five ODI appearances and a stop-start Test career Pujara said he had been able to finesse his style over the years.
"I can't change my game but obviously you can fine-tune and add things," he said.
"I have added a few shots to my game in the last couple of years and continuing to grow as a cricketer."
Pujara picked out England's Jimmy Anderson and Australia skipper Pat Cummins as among the best bowlers he has faced.
He rated Australia, England and New Zealand as "tough oppositions" and praised the Australians for their "good fighting spirit".
"They would always challenge you as opponents, I had never had easy runs versus Australia," Pujara said.
"Always had to work hard for those runs and always banter and chat going on, sometimes it motivates me as I am not someone who talks back.
"I let the bat do the talking."