Papon bhai keeps me under pressure: Shakib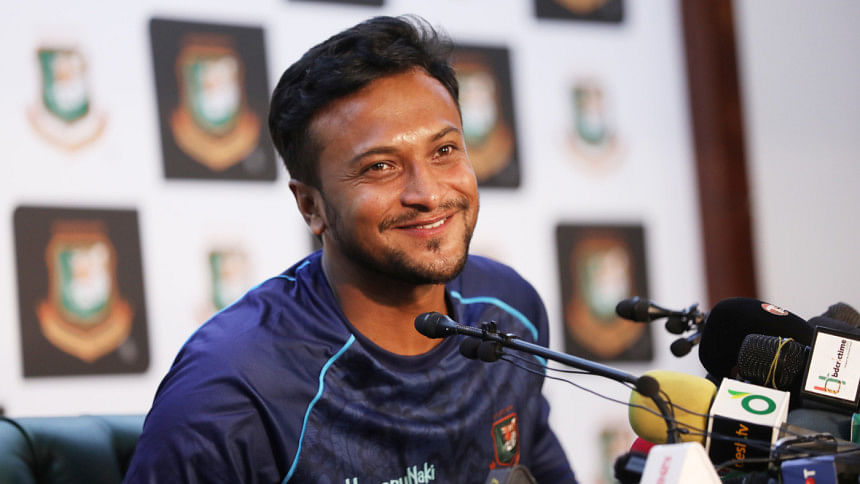 Shakib Al Hasan revealed that after taking over the challenge of captaining the Bangladesh T20I side, what was going through the back of his mind was that the Bangladesh Cricket Board (BCB) president, Nazmul Hassan Papon, was going to keep him under pressure.
The newly appointed T20 skipper of Bangladesh was in a relaxed mood while talking to reporters during the press conference today. Asked what was going through the back of his mind after taking over captaincy for the third time, a wry smile spread across Shakib's face.
"One of the things is that Papon bhai keeps me under pressure," he said.
Shakib felt that the BCB identified him as the best possible option.
"So there is some chance of pressure being there. Since it's a challenging position and the board felt that I was the best option available, maybe that's why they chose me," he added.
The skipper said he was not sure how much he actually wanted the captaincy in the first place but his smile indicated he was not bothered by that anymore.
"Difficult question to answer and I don't know how eager I was to do it [captaincy] but right now I'm very motivated," Shakib informed.
The T20 skipper further informed that his plans will be more concrete once he sits down with the new coach. Bangladesh took Sridharan Sriram onboard as a technical consultant. However, it is being widely understood that the former India all-rounder will be with the Tigers in the Asia Cup as head coach.
"These plans are made by the coach and captain together. Since we have someone new in charge, these plans would be made with him," Shakib said about presenting his plans to the team for the forthcoming Asia Cup.