Don't post many videos, so people don't know how much I train: Shakib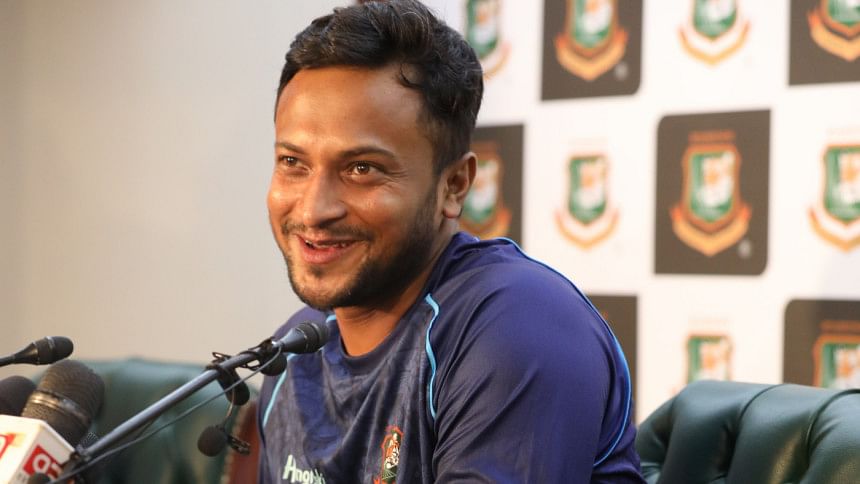 Bangladesh Test and T20I skipper Shakib Al Hasan today jokingly said that media and the fans, in general, do not know about his practice routine precisely as he usually refrains from posting his training videos on social media.    
Regardless of the controversies he courts, Shakib is known for getting the job done as a cricketer on the field. And the 35-year-old, in a career spanning over 16 years, has always been meticulous about his method -- doing just what needed to be done.
Shakib, in his typical nonchalant demeanour, spoke to the media today in his first official press conference as the skipper of the Bangladesh T20I side ahead of the upcoming Asia Cup in the UAE.  
Asked what he thinks about how the other players in the side, despite training for many days, usually fail to deliver while Shakib manages to come up with a match-winning performance on the back of just a few days' training, the cricketer said, "I would never say that I train less. I train as much as I think is needed for me."  
"The thing is, let's say, I come to Mirpur and trained for three days. But that does not necessarily mean that I trained for only those three days. Maybe I trained for the past 10 days elsewhere but did not come to Mirpur during that time. As you people come here at Mirpur, you don't see or notice whenever I train outside of Mirpur," the all-rounder added.  
Shakib, who was in a jovial mood today throughout the entire press conference, then went on to give a reason as to why the media might think that he trains less than the other cricketers on the side. 
"And I usually don't post many videos on social media so people usually don't know if I am training or not," Shakib said wearing a broad grin on his face. 
"I am sure that everyone tries their best to play a tournament or a series being in their best shape or form. If anyone needs more training [to attain their best form] then there is nothing wrong with it. Similarly, if anyone can attain it with a bit less training then that's fine as well," Shakib concluded.