Now it's time to overcome away challenge
2018 has been a better year for Bangladesh cricket when compared to 2017, especially in the ODI format where the Tigers finished as the fourth-most successful side with a win rate of 65% after winning 13 of 20 games.
Bangladesh ended the year behind only New Zealand, England and India, the last of whom finished as the most successful side in the 50-over format. However, the signs of huge improvement will definitely boost the Tigers ahead of the ICC World Cup in 2019.
In 2017, the Tigers had won just four matches while losing seven of their 14 total games, with the other three ending without a result.
The Tigers also showed signs of gradually stepping up in the shortest format of the game this year. They won only five of 16 matches and although that is better than the previous year when they could win only one of seven T20Is, more improvement is required in the format.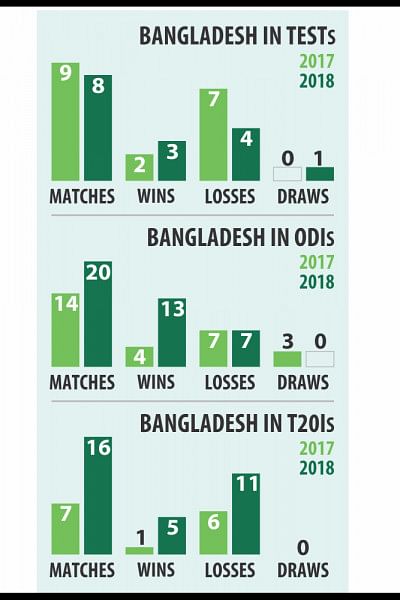 Yet the biggest area of concern remains Test cricket, a format the Tigers are struggling to adapt to, especially abroad.
In 2017, Bangladesh had won just two of their nine matches in the game's longest format while losing all the others. However, the two wins were special moments -- a win in the Tigers' landmark 100th Test against Sri Lanka in Colombo and a maiden Test victory against Australia.
However, apart from those two results, Bangladesh were on the receiving end of crushing defeats from New Zealand and India before ending the year with a horror tour of South Africa.
Bangladesh have interestingly played one less Test in 2018, winning three, losing four and drawing the other but once again their performances away from home remain the biggest concern. The Tigers lost both the away Tests in the Caribbean comprehensively while all three of their wins came at home.
In light of those performances, the 2019 Future Tour Programme (FTP) poses a huge challenge to the Tigers as they are scheduled to play just six of their 25 international fixtures at home.
They will play even less Test cricket in 2019 than they did this year, with just six Tests -- five of which will be played abroad -- scheduled. Among the 17 ODIs, which includes the group stage games of the 2019 ICC World Cup, there are no home games for the Tigers in their most favoured format.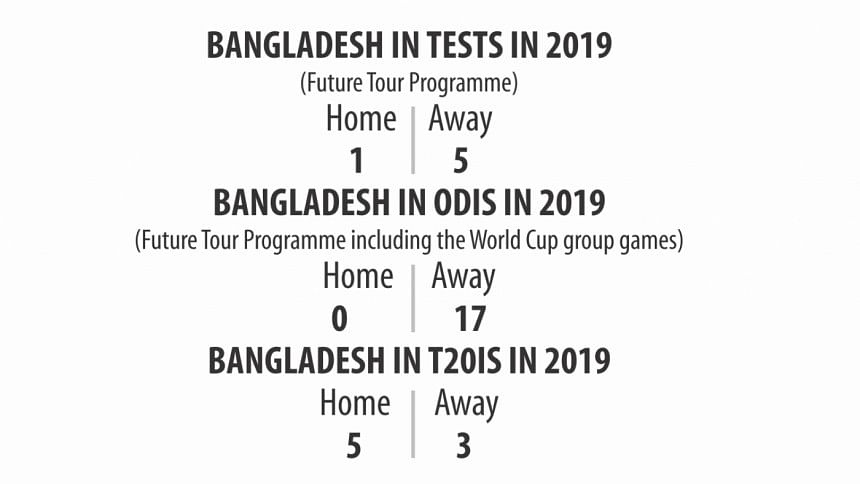 Given that scenario, it will be important for the Tigers' think-tank to prepare for the away challenges, an area of disappointment for Bangladesh so far.
2017 Evaluation
2018 Evaluation
Challenges For 2019

It was three of the Tigers' most experienced cricketers -- Mushfiqur Rahim, Tamim Iqbal and Shakib Al Hasan -- who were the top performers with the bat. Mushfiqur finished as the highest run-getter with 766 runs across eight Tests at an average of 54.71. Shakib and Tamim finished in second and third position with 665 and 537 runs respectively. In T20Is, Soumya Sarkar led the chart with 235 runs from seven games.

Shakib was the highest wicket-taker for the Tigers in Tests with 29 scalps across seven games while Mehedi Hasan Miraz finished second 24. Mustafizur Rahman took over from Shakib in ODIs, finishing as the top wicket-taker with 14 scalps with skipper Mashrafe Bin Mortaza behind him on 13 wickets. With eight wickets each, Rubel Hossain and Shakib were the highest wicket-takers for Bangladesh in T20Is.

After hitting four hundreds, Mominul Haque finished as the top run-getter with 673 runs across eight Tests. Mushfiqur Rahim and Mahmudullah Riyad finished second and third with 490 and 476 runs respectively. Left-arm spinner Taijul Islam had a terrific 2018, ending with 43 wickets across seven Tests while Mehedi trailed him with 41 scalps. In ODIs, Mushfiqur was the top run-getter with 770 runs at an average of 55. Tamim and Shakib followed with 684 and 497 runs respectively. Mahmudullah was the leading run-getter in T20Is with 414 runs from 16 games, with Mushfiqur behind on 397 runs. Mustafizur led the charts for most ODI wickets with 29 scalps in 18 games while Mashrafe, Rubel and Shakib bagged 26, 23 and 21 wickets respectively. Mustafizur also led the way in T20Is with 21 wickets, ahead of Shakib with 15 scalps.

One of the biggest challenges for the Tigers in 2019 will be to maintain the upward trend of this year and it will be especially crucial that they perform well in Tests away from home after sub-par showings in the recent past. There have been a few initiatives to encourage fast bowlers in the domestic circuit, namely by providing bowling-friendly pitches. However, the batters will also need to lift their game in tough conditions away from home after succumbing to their lowest-ever Test innings of 43 against the West Indies in 2018. With 25 international fixtures among 31 across all formats taking place away from home, the Tigers' think-tank must work accordingly to become a better side abroad. It will probably also be ODI skipper Mashrafe's last year before retirement and the World Cup in England next year will be crucial for many reasons.