No regrets, says Zampa after 'Mankad' attempt gets booed by own fans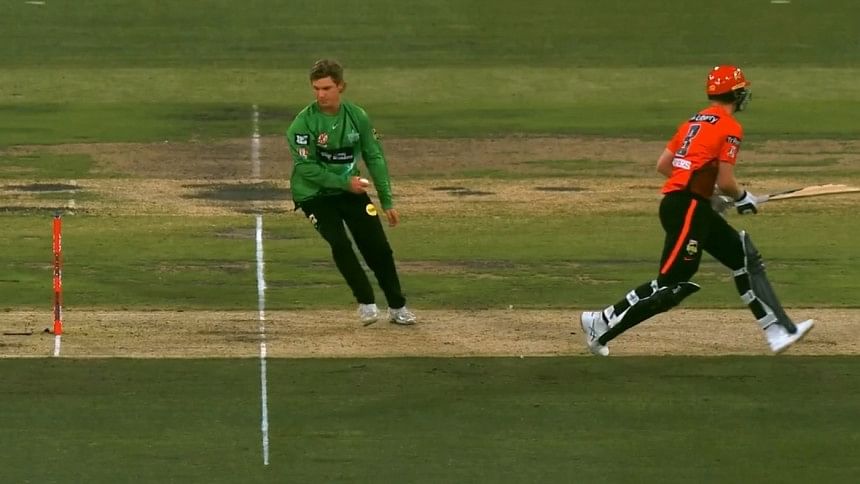 Australian spinner Adam Zampa admitted he "saw red a little bit" but insisted he was within his rights after attempting a controversial "Mankad" run-out in the domestic Twenty20 Big Bash League.
The Melbourne Stars' skipper tried to dismiss Melbourne Renegades' non-striker Tom Rogers on Tuesday night, annoyed that he was stepping too far out of his crease.
Zampa stopped during his bowling run-up as Rogers left his ground, whipping off the bails.
The umpire sent the decision for review and Rogers was ultimately adjudged not out as Zampa's arm had passed its highest point where he would reasonably be expected to release the ball.
Sections of the near 40,000-strong Melbourne Cricket Ground crowd turned against their own skipper, booing him.
Stars head coach David Hussey said the team would have withdrawn the appeal if Rogers had been given out.
"It's not the right way to play cricket -- yet. It was more of a warning for the batter not to leave too early," Hussey told broadcaster Fox.
Zampa later told reporters he had no regrets, after the Renegades lost the game by 33 runs.
"I'm a very competitive guy. I saw red a little bit when he used that to his advantage," he said.
"If I get in that situation again, I'm not saying I won't do it ... I was well within my rights. It's in the rule book. I just got my technique wrong."
The rare mode of dismissal is named after Indian all-rounder Vinoo Mankad, who ran out Australian batter Bill Brown in a 1948 Test.
The dismissal ignites debate every time it happens, but was ruled legitimate by the International Cricket Council last year.