'Nannu, Bashar, Razzak not enemies of Riyad'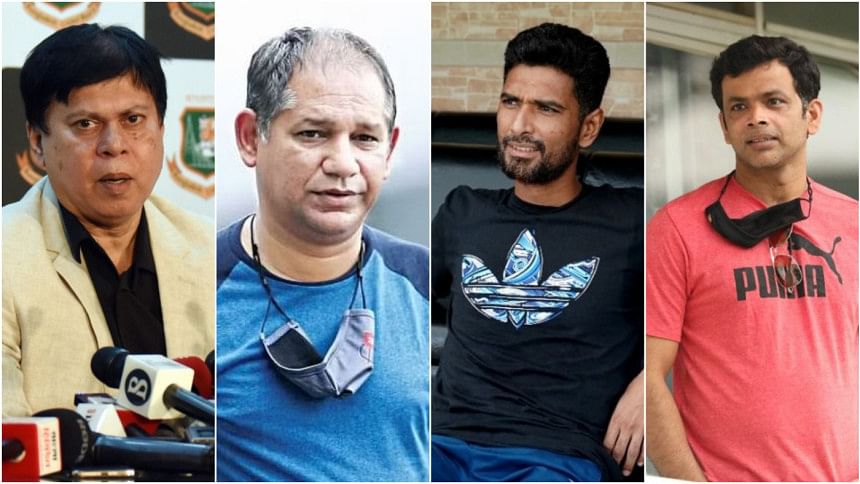 Bangladesh Cricket Board (BCB) director Khaled Mahmud Sujon said that the selection panel leaving veteran Mahmudullah Riyad out of the Asia Cup squad came strictly out of their planning. 
Whether Mahmudullah would make the squad for the Asia Cup was a major talking point as many thought that his experience would come into consideration doubled with the lack of solid options for the number seven or the finisher role but selectors opted to go with Afif Hossain and Shamim Hossain instead.
"I still believe that Riyad has the ability to fight and make a comeback. We have a lot of cricket ahead. The Dhaka League (Dhaka Premier League) is there and he can respond there. The cricketer has to perform to the best of his ability and whether he gets selected or not is up to the selection committee. You want to say that Nannu bhai, Habibul Bashar, and Abdur Razzak are enemies of Riyad?" Sujon told the reporters on Tuesday.
"These are all wrong. I don't need to know everything. If I as a board director and a former captain question them about it, it puts pressure on them. They make a lot of plans (regarding the team) and the decision (to leave Riyad out) came from those plans. It is not part of the team selection process or their job to tell us about that. The head coach and the captain is there; They have their opinions too," he added.
Mahmudullah played his last ODI against England at home in March and was left out of the Tigers' series against Ireland (both at home and away), and the Afghanistan series at home.
The 37-year-old, who retired from Tests and T20Is, has been training at the Sher-e-Bangla National Cricket Stadium prior to the announcement of the 17-member squad which indicated that he might just make the cut owing to the experience he brings.
Mahmudullah has struggled with form and fitness in the past few series. He registered a couple of fifties in his last 10 ODI innings but has come under immense scrutiny owing to his subdued approach and sluggish strike rates. Adding to this is the lack of sharpness in the field and the captain's inability to hide the 37-year-old in the field.
These situations have left many pondering whether Mahmuduulah has played his last game for the Tigers. 
When asked about it, Sujon shared his insight, underlining that the onus is upon the players to know when to call it quits. 
"I had it (the courage to retire). I retired. I understood that my time was up. If I don't leave, then how will the new faces come into the side? The cricketers have to decide when to say step away. It's very difficult and I've gone through it. I let go of the thing I loved," Sujon said.
"We weren't as professional as the likes of Mahmudullah. We didn't get as much money by playing cricket in our time. We played for very little money but our love for cricket was there and we were able to let go of it.  
"I don't know why this generation of players doesn't want to step away. The courage to step away doesn't come to them but you have to leave at one point. Don't you think Stuart Broad could have continued playing? Then why did he leave it? You have to know when to call it quits. If they (the cricketers) feel that they should keep going, and play for 2-3 years then it's okay. But you can't say then that you can't be dropped. You can be left out considering your form and a new face can be given an opportunity."