Kohli picks his favourite between CR7 and Messi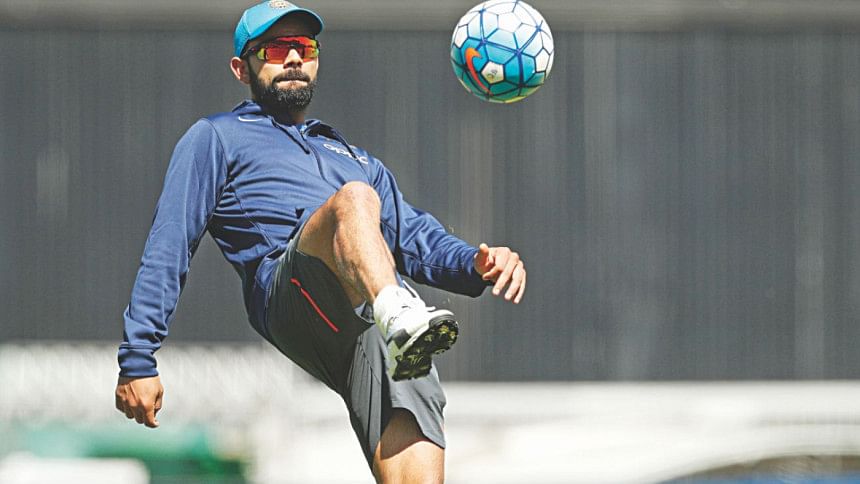 India captain Virat Kohli spoke of his admiration for footballers and their discipline while also comparing between Cristiano Ronaldo, Ronaldo 'The Phenomenon' and Lionel Messi during an interview with The Times of India.
The India captain is co-owner of football club FC Goa of the Indian Super League and said he will be focusing a lot more on developing football and other sports in India after retirement. "It is going to be one of my priorities when I retire. Football will take a lot of my attention because I am involved with FC Goa, but for sports in general, I want to contribute in such a manner that people benefit at the grassroots," Kohli said.
He had previously spoken keenly about his fondness for CR7 and Brazilian legend Ronalo 'The Phenomenon'. Who would he pick between his two favourites?
Tough question but I think Cristiano is the most complete player I have seen. Whether it's the left foot, right foot, speed or dribbling skills, he's amazing. I have not seen a better goal-scorer.
"The Phenomenon (Ronaldo) on the other hand was something else. He revolutionised the sport and everyone followed him. His place is special but if I had to pick one who will give energy and intensity, it's Cristiano.
Asked if he would pick CR7 over Messi, he replied: "It's a personal preference. Messi is a freak, an absolute natural talent, and his ability is second to none. Cristiano Ronaldo's drive separates him from everyone else. Playing at the top level, everyone has talent but I don't think everyone has the drive that he has."
Kohli, a trend-setter when it comes to fitness amongst cricketers, said that there is a lot to learn and respect about the way footballers keep themselves fit.
"We always look up to footballers for their discipline. It's a requirement of the sport that you need to be at your absolute best to be able to take the field.
"Football players are very particular about professionalism, in terms of physical preparation, nutrition and rest periods. We learn a lot from them."