Jadeja fined 25% of match fee for applying cream without umpires' permission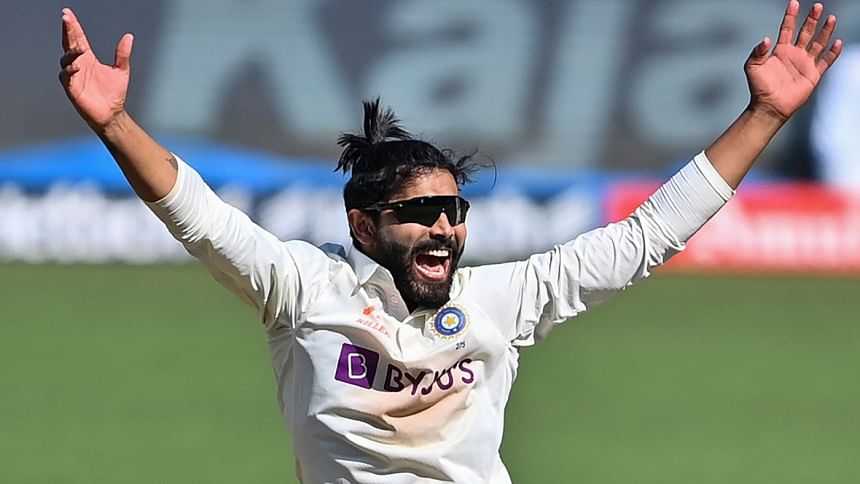 Ravindra Jadeja was fined 25% of his match fee on Saturday for breaching the ICC's code of conduct in India's first test win over Australia after he was seen applying a soothing cream to his finger without seeking permission from the on-field umpires.
The ICC said in a statement that in deciding to sanction Jadeja with the Level 1 breach, the match referee was satisfied that the cream was applied to the finger purely for medical purpose.
It added the cream was not applied as an artificial substance to the ball and consequently it did not change the condition of the ball.
"Ravindra Jadeja was found to have breached Article 2.20 of the ICC Code of Conduct for Players and Player Support Personnel, which relates to displaying conduct that is contrary to the spirit of the game," the ICC said in a statement.
"In addition to this, one demerit point has been added to Jadeja's disciplinary record. This was his first offence in a 24-month period."
The incident took place during the 46th over of Australia's first innings on Thursday when Jadeja took a substance from Mohammed Siraj's palm and appeared to rub it onto the index finger of his left hand.
The ICC said India's team management had explained that Jadeja was applying the cream to a swelling on the index finger of his bowling hand.
"This was done without asking for permission from the on-field umpires," the statement said. "Jadeja admitted the offence and accepted the sanction proposed ..., so there was no need for a formal hearing."
India won the first test in Nagpur by an innings and 132 runs inside three days, taking a 1-0 lead in the four-test series. The second test will be held in New Delhi from Feb. 17.